13th Battalion Royal Sussex Regiment
(3rd South Downs)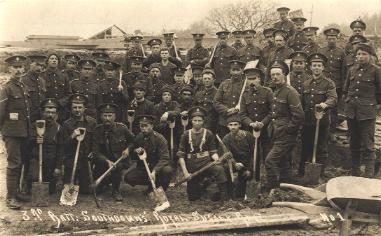 13th Bn Royal Sussex at Cooden Camp early 1915 (©Paul Reed)
Researching a man from this battalion? See my WW1 Research page.
This battalion was formed on 20th November 1914 by Lieutenant Colonel Claude Lowther MP and Committee. The main recruiting office was at Bexhill-on-Sea, but men came from all over Sussex to join. Despite the early success in recruiting men for the original South Downs battalions, the 13th was not up to strength until mid-1915.
All original enlistments were given an "SD" (South Downs) prefix to their regimental number.
Training took place at Cooden Camp, near Bexhill, from November 1914 until July 1915. At this stage the War Office took over direct control of the battalion and it moved to Detling Camp, near Maidstone in Kent. On 29th September 1915 the battalion moved to North Camp, Aldershot. In October it became part of 116th Brigade, 39th Division. This division had been formed at Winchester in August 1915, but concentrated at Witley via Aldershot in October/November 1915. From this date until March 1916, the battalion stayed at Witley Camp.
It crossed to France via Southampton on 5th/6th March 1916, landing at Havre.
It served on the Western Front with 116th Brigade, 39th Division until the Spring of 1918. Following heavy losses in the German Offensive of March/April 1918 the battalion was reduced to a training cadre on 23rd May 1918. The remaining personnel were used to train soldiers of the American Expeditionary Force. On 17th June 1918 the battalion was posted to 118th Brigade, 39th Division, but it was still under strength and was not sent to the front line. The 13th were finally disbanded on 14th August 1918, with all ranks posted to the 1/4th Battalion Royal Sussex Regiment, then in Flanders with the 34th Division.
Battles and Engagements
1916
30 June Boar's Head, Richebourg [D Company only]
Battles of the Somme
3 September Fighting on the Ancre [Hamel]
26-28 September Battle of the Thiepval Ridge
5 October – 11 November Battle of the Ancre Heights
14 October Capture of the Schwaben Redoubt
21 October Capture of Stuff Trench
13 & 14 November Battle of the Ancre
1917
Battles of Ypres (3rd Ypres)
31 July – 2 August Battle of the Pilckem Ridge
16-18 August Battle of Langemarck
20-25 September Battle of the Menin Road Ridge
29 October – 10 November Second Battle of Passchendaele
1918
First Battles of the Somme
22-23 March Battle of St Quentin
24-25 March Actions on the Somme crossings
24-25 March Battle of Bapaume
26-27 March Battle of Rozieres
Battles of the Lys
16 April Fighting on the Wytschaete Ridge
17-19 April First Battle of Kemmel Ridge
25-26 April Second Battle of Kemmel Ridge
29 April Battle of the Scherpenberg
Officers March 1916
Commanding Officer: Lieutenant-Colonel R.J.Spurrell
Major: C.K.Peache
Adjutant: Lieutenant R.D'A. Whittaker
Quarter-Master: Hon Lieut-QM E.Ellis
Captains: S.Huges Lieutenants: F.C.Keliher
C.M.Humble-Crofts H.J.Coxhead
C.W.Mayo A.C.Taylor
W.T.Heagerty W.W.Fitzherbert
F.S.Gillespie J.P.M.Valon
M.J.M.Makalua J.Bradford

Second Lieutenants:
S.J.Davis
C.V.Clarke
H.L.Fitzherbert
C.A.F.Whitley
F.S.Ellis
V.C. de Grelle
F.Sparkes
D.G.Elphicke
R.L.Barnett
H.H.Story
G.C.Taylor
G.E.Elliott
J.S.Gasson
F.B.Buckland
H.Sparks
H.E.Jones
A.S.Fabian
L.K.Rayner
E.W.Dudley
N. de P. MacRoberts
C.D.B.Ross
H.A.Maligny
©PAUL REED 2003