THE LONDON REGIMENT 1914-19
5th (City of London) Battalion London Regiment (London Rifle Brigade)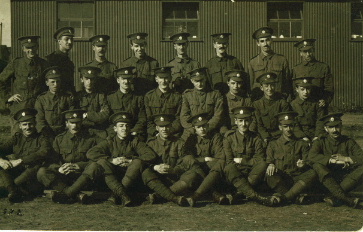 2/5th Bn London Regiment 1915.

If you are researching a soldier of the London Regiment then I suggest you visit my WW1 Research Page.

HISTORY
1908 - 5th (City of London) Battalion (London Rifle Brigade) formed.
1914 - 1/5th Bn, 2/5th Bn, and 3/5th Bn formed.
1916 - 5th (City of London) Battalion The London Regiment (London Rifle Brigade)
1920 - 5th (City of London) Battalion The London Regiment (London Rifle Brigade)
WW1 BATTLE HONOURS
YEAR

1/5th Bn

2/5th Bn

3/5th Bn

1914

-

-

-

1915

ST JULIEN
WIELTJE

-

-

1916

GOMMECOURT
LEUZE WOOD
LESBOEUFS

-

-

1917

GUEMAPPE
POLYGON WOOD
MOEUVRES

BULLECOURT
GRAVENSTAFEL
PASSCHENDAELE

-

1918

GAVRELLE
CROISILLES
MARQUION
ANGREAU

-

-
BATTALION IN WW1
The London Rifle Brigade (LRB) were affiliated to the Rifle Brigade, and wore black buttons and shoulder titles. Their headquarters was at Bunhill Road, and in August 1914 they were at their annual camp at Crowborough, in Sussex. They crossed to France in November 1914, joining the 11th Brigade, 4th Division, serving with them in the trenches at Ploegsteert, or 'Plugstreet'. Men from the battalion took part in the Christmas Truce in December 1914. They took part in Second Ypres and in April-May 1915 they lost 16 officers and 392 men. Lance Sergeant D.W.Belcher was awarded the Victoria Cross for bravery during this period. Due to the losses they formed a composite battalion with other London units until August 1915 when they became part of the 3rd Division. They served with them until the formation of the 56th (London) Division in March 1916 when they joined the 169th Brigade. They lost heavily at Gommecourt on 1st July 1916, and fought again at Leuze Wood and Combles. In 1917 they were in the Battle of Arras and Third Ypres, and also took part in the Battle of Cambrai. They were heavily involved in the March 1918 German Offensive at Arras, and took part in the fighting on the Hindenburg Line. On 11th November 1918 the battalion was north-east of Bavai, in Belgium.
A 2/5th Battalion was formed in September 1914 and served with the 174th Brigade, 58th (London) Division. It landed in France on 25th January 1917, and took part in the fighting on the Hindenburg Line and at Third Ypres. It was disbanded at Moreuil on 6th February 1918.
The 3/5th was formed at Bunhill Row on 26th November 1914 and supplied drafts to the other two battalions, become the 5th (Reserve) Battalion in April 1916. In 1916 it was at Fovant, and in 1917-18 was at Blackdown, Aldershot.
BOOKS
(Various) - HISTORY OF THE LONDON RIFLE BRIGADE 1859-1919 (Reprinted by Naval & Military Press 2002 N & M reprint (original 1921). SB. xx + 515pp with 6 b/w photos and 17 maps ISBN 1843421518)

A Rifleman - FOUR YEARS ON THE WESTERN FRONT (SB. xvi + 409pp. 2001 N&MP Reprint of 1922 Original Edition)
- The author served with the 1/5th in France from 1915-18 and was awarded the MM & Bar.
K.W.Mitchinson - GENTLEMEN AND OFFICERS. The Impact and Experience of War on a Territorial Regiment 1914-1918 (1995. HB. xii + 308pp with 32 b/w photos and 10 maps.)

G.Nobbs - ENGLISHMAN KAMERAD! RIGHT OF THE BRITISH LINE (Heinneman 1918)
- The author was an officer in the 2/5th and then 1/5th Londons and was blinded on the Somme.
WEB LINKS
Photos of men in the LRB
http://www.ww1photos.com/London5th.html
Regiments Site
http://www.regiments.org/regiments/uk/volmil-london/vinf/L05LRB.htm