1/5th Battalion Royal Sussex Regiment
(Cinque Ports)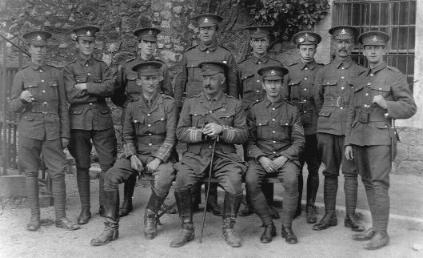 Lt-Col F.Langham (front centre) with men from the Orderly Room 1915. (ŠPaul Reed)
Researching a man from this battalion? See my WW1 Research page.
The 5th Battalion Royal Sussex Regiment (Cinque Ports) was formed on 1st April 1908 as part of the newly constituted Territorial Force (TF). At this time the battalion had eight locally recruited companies, all of whom had their own Drill Halls:
A Company: Hastings
B Company: Battle
C Company: Ticehurst
D Company: Lewes
E Company: Rye
F Company: Uckfield
G Company: Crowborough
H Company: Ore
Recruits joined for periods of four years, attending regular meetings at the local company Drill Hall, and the battalion as a whole had an annual Summer camp (usually in August).
Regimental numbers began at '1' when the 5th Battalion was formed in 1908, and each man either had a 'TF' or '5' prefix to his number. This was usually included in official records, such as muster rolls and casualty lists, and often later engraved on his war medals.
When the war broke out in August 1914 the battalion was assembled and became Army Troops in the Home Counties Division TF. In early 1915 it was posted for duty at the Tower of London. About this time several composite battalions of the Cinque Ports were formed. The original battalion was thereafter known as the 1/5th, with two reserve units formed later - the 2/5th and 3/5th. These supplied drafts to the 1/5th Bn in France, and later personnel to several battalions of the regiment.
In 1914 the 1/5th were also re-organised into four companies as follows:
A (Hastings) & E (Rye) became A Company

B (Battle) & F (Uckfield) became B Company

C (Ticehurst) & D (Lewes) became C Company

G (Crowborough) & H (Ore) became D Company
The battalion crossed to France on SS 'Pancras' and landed at Boulogne on 18th February 1915.
The 1/5th were commanded by Lieutenant Colonel F.G.Langham VD from 1914 until 1917.
On 21st February it was posted to the 2nd Brigade, 1st Division, in which the 2nd Bn Royal Sussex Regiment was also serving. On 20th August 1915 it became the Pioneer Battalion of the 48th (South Midland) Division and joined them on the Somme at Hebuterne.
As pioneers each men wore a brass badge on each collar in the form of a crossed rifle and pick.
In 1916 the son of the commanding officer, Captain C.R.Langham (killed in 1917), formed a divisional Scouts and Snipers section known as 'Langham's Scouts', from personnel in the 1/5th Bn. It served with the division for the rest of the war.
In 1917 each man still serving with the battalion was given a new regimental number as part of an overall re-numbering in the Territorial Force. These numbers were between 240001 and 265000.
In November 1917 the battalion went with the division to Italy, and in November 1918 was in Austria, east of Trent. It returned to England in 1919.
Battles and Engagements
1915
Battle of Aubers Ridge: 9 May
1916
Battles of the Somme
Battle of Bazentin Ridge: 15-17 July
Capture of Ovillers: 17 July
Battle of Pozičres Ridge: 23-27 July & 13-28 August
Battle of the Ancre Heights: 3 -11 November
Battle of the Ancre: 13-18 November
1917
German Retreat to the Hindenburg Line: 14 March - 5 April
Occupation of Peronne: 18 March
Battle of Ypres (Third Ypres)
Battle of Langemarck: 16-18 August
Battle of Polygon Wood: 28 September - 3 October
Battle of Broodseinde: 4 October
Battle of Poelcapelle: 9 October
1918
Battle of the Piave
The Fighting on the Asiago Plateau: 15 - 16 June
Battle of Vittorio Veneto
The Fighting in the Val d'Assa: 1 - 4 November
ŠPAUL REED 2002