8th Battalion Royal Sussex Regiment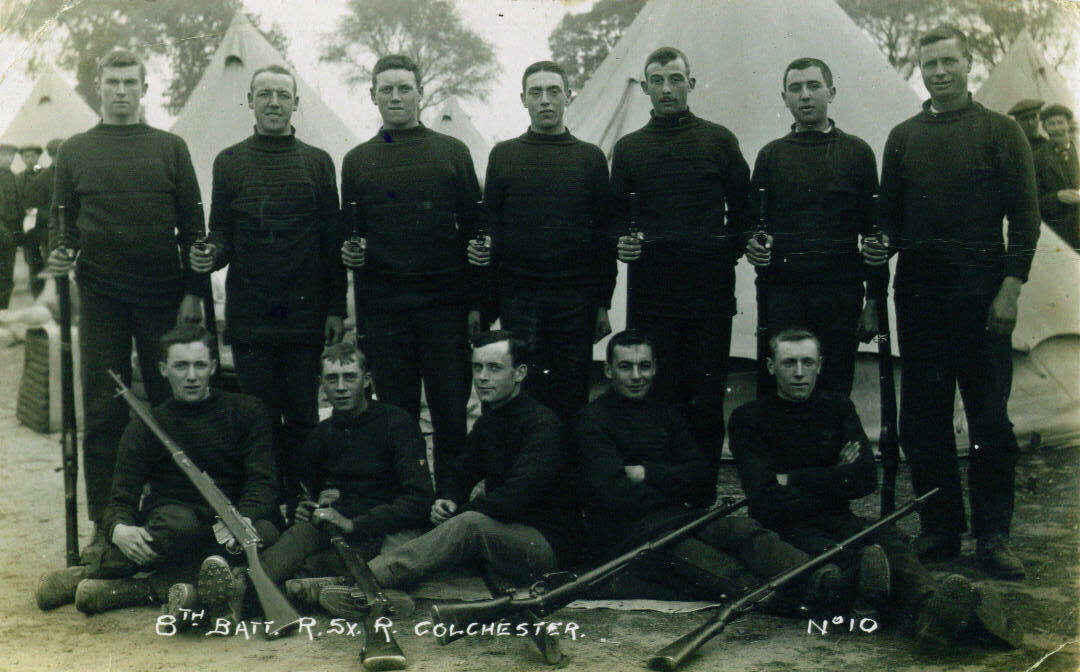 8th Bn Royal Sussex Regiment, Colchester 1914 (©Paul Reed)
Researching a man from this battalion? See my WW1 Research page.
The 8th Battalion Royal Sussex Regiment were formed at Chichester in September 1914 as part of Kitchener 's Army. Initial volunteers were from all over Sussex , and tended to be older men in the their late 20s and early to mid 30s. The battalion was under strength when it went to Colchester in October 1914 to join 54th Brigade, 18th (Eastern) Division. Further recruits were drawn from the London area at this time, and it was several months before uniforms and equipment arrived. On 4th February 1915 it became the Pioneer Battalion of 18th (Eastern) Division, a role it would keep for the remainder of the war. In May 1915 the battalion moved to Salisbury Plain, and then crossed to France on 24th July 1915.
The 8th Battalion moved to the Somme front, and took over trenches in the Mametz-Montauban sector. Their first casualty was Private James Chandler, from West Wittering , who died of wounds on 25th August 1915, during the first tour of the trenches. They remained in this quiet sector until the Battle of the Somme , taking part in the attack on Montauban on 1st July 1916. During the subsequent fighting for Trônes Wood on 13th/14th July, they played a prominent role in the battle. They also fought in the capture of Thiepval on 26th September, and at Regina Trench in October.
The battalion stayed on the Somme until the Spring of 1917, when it moved to the Arras front. Here it took part in the fighting on the Hindenburg Line at Héninel, and at Chérisy on 3rd May. It then moved to Flanders , to take part in the Third Battle of Ypres, and fought along the Menin Road.
In the Spring of 1918 the battalion returned to the Somme front, and took part in the March 1918 offensive. It remained in the line opposite Albert until the summer, when on 8th August 1918 it took part in the attack along the Morlancourt Ridge. Fighting its way back across the old Somme battlefields, it was once again in action at Trônes Wood in late August, where it fought the Prussian Guard. Reaching the Hindenburg Line in September, it took part in the attack on the St Quentin Canal, and fought its final battle on the Sambre Canal on 4th November 1918.
On 11th November 1918 the battalion was near Le Cateau. Here the battalion remained until the New Year, all ranks being given educational and recreation training, and were employed on salvage work on the old battlefields. Demobilisation began on 10th December 1918, and the battalion was disbanded in March 1919.
During the war 15 officers and 215 men had died on active service with the 8th Battalion Royal Sussex Regiment.
BATTLE HONOURS
1916
BATTLES OF THE SOMME
1 – 8 July Battle of Albert
14-17 July Battle of Bazentin Ridge
14 July Capture of Trones Wood
19-21 July Battle of Delville Wood
26-28 September Battle of Thiepval Ridge
1-5 October, 17
October – 11
November Battle of the Ancre Heights
30 September –
5 October Capture of the Schwaben Redoubt
21 October Capture of Regina Trench
13-18 November Battle of the Ancre
1917
16 January –
13 March Operations on the Ancre
17-18 February Miraumont [Boom Ravine]
10 March Capture of Irles
14-20 March German Retreat to the Hindenburg Line
BATTLES OF ARRAS
3 & 4 May Third Battle of the Scarpe
BATTLES OF YPRES
31 July Battle of Pilckem Ridge
10 August Inverness Copse
16 & 17 August Battle of Langemarck
12 October First Battle of Passchendaele
22 October Capture of Poelcappelle
5 – 10 November Second Battle of Passchendaele
1918
FIRST BATTLES OF THE SOMME
21-23 March Battle of St Quentin
4 April Battle of the Avre
25 & 25 April Villers-Bretonneux
THE ADVANCE TO VICTORY
8 & 9 August Battle of Amiens
SECOND BATTLES OF THE SOMME
21-23 August Battle of Albert
23 August Capture of Usna and Tara Hills
27 August Capture of Trones Wood
31 August –
3 September Second Battle of Bapaume
BATTLES OF THE HINDENBURG LINE
18 September Battle of Epéphy
29 September –
1 October Battle of the St Quentin Canal
THE FINAL ADVANCE IN PICARDY
20-26 October Battle of the Selle
4 November Battle of the Sambre
©Paul Reed 2005