9th Battalion Royal Sussex Regiment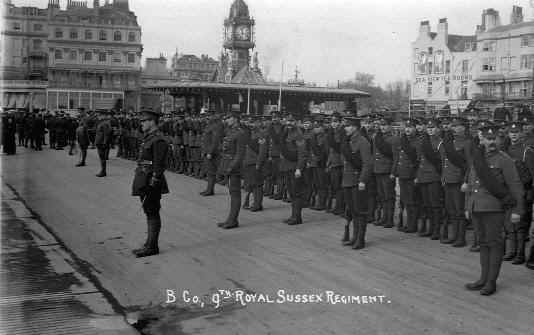 9th Bn at Brighton 1914. (ŠPaul Reed)
Researching a man from this battalion? See my WW1 Research page.
The 9th Battalion was formed at Chichester in September 1914 and was part of Kitchener's New Army. All original recruits were given a 'G' prefix to their regimental number; numbers of most men seem to have been in the 3000 series.
After formation the battalion went into camp on the South Downs around Brighton where it often took part in recruitment marches on the seafront. Here it became part of the 73rd Brigade of 24th Division. In December 1914 the battalion moved to Portslade, and in April 1915 to Shoreham. In June 1915 a further move was made to Woking, in Surrey.
The 9th Battalion landed in France, at Boulogne, on 31st August 1915.
Within a few weeks of arrival, the battalion was thrown into the Battle of Loos, suffering heavy losses.
On 11th November 1918 it was still part of 73rd Brigade, 24th Division, and was stationed at Bavai, in France. It was finally disbanded in early 1919.
BATTLES & ENGAGEMENTS
1915
25-26 September Battle of Loos
1916
14th February Hooge, Ypres Salient [VC action]
30th April Wulverghem [German gas attack]
Battles of the Somme
11-22 August &
31 August - 2 September Battle of Delville Wood
3 -5 September Battle of Guillemont

1917
Battles of Arras
9-14 April Battle of Vimy Ridge [attack on Bois en Hache]
Battles of Ypres
7-14 June Battle of Messines Ridge
Battles of Ypres (3rd Ypres)
31 July - 13 September Battle of Pilkhem Ridge
16-18 August Battle of Langemarck
1918
First Battles of the Somme
21-23 March Battle of St Quentin
24-25 March Actions on the Somme Crossings
26-27 March Battle of Rozieres
4 April Battle of the Avre
The Advance to Victory: Battles of the Hindenburg Line
8-9 October Battle of Cambrai
9-12 October Battle of the Selle
The Final Advance in Picardy
4 November Battle of the Sambre
5-7 November Passage of the Grande Honnelle
Summary of Casualties 1915-1918
Battle
Date
Officers
Other Ranks
Total
Loos
25/28.9.15
19
362
381
Hooge
14.2.16
5
134
139
Guillemont
18.8.16
7
179
186
Delville Wood
30.8.16 - 4.9.16
3
115
118
Bois-en-Hache
12.4.17
9
107
116
Awoingt etc.
8/14.10.18
2
91
93
Wargnies-le-Grand
4.11.18
1
135
136

TOTALS

46
1123
1169

ŠPAUL REED 2001