ARI BURNU CEMETERY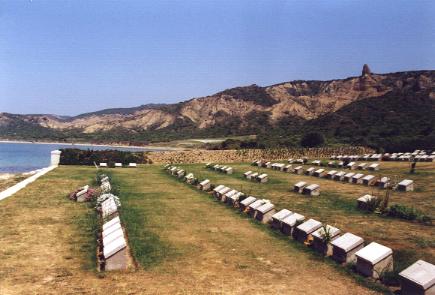 AIF – 151
NZ - 35
UK – 27
INDIAN – 3
MALTESE – 1
UNIT UNIDENTIFIED - 37
SPECIAL MEMORIAL - 5
HISTORY
Ari Burnu Cemetery, named from the Cape at the North end of Anzac Cove, was made in 1915, and in 1926 and 1927 graves from Kilid Bahr Anglo-French Cemetery and Gallipoli Consular Cemetery were concentrated into it. There are now over 250 Great War casualties commemorated at this site. The names of three soldiers from Australia and two from New Zealand, for whom there is evidence of burial in this cemetery, are recorded on special tablets; and other tablets record the names of three Indian soldiers who were buried at Kilid Bahr. The Cemetery covers an area of 1,824 square metres.
The two cemeteries concentrated here were: KILID BAHR ANGLO-FRENCH CEMETERY, on the Eastern side of the Peninsula, contained the graves of five soldiers and one sailor from the United Kingdom, four soldiers from Australia, and four (including one unidentified) from India. Six of these men died in 1915 and were buried originally in the Greek cemeteries at Bigha and Maidos or on the field; the others died in November, 1918. GALLIPOLI CONSULAR CEMETERY, near the North end of the Peninsula, contained (among Crimean and other British graves) those of three soldiers from the United Kingdom who died in 1919.
LOCATION
Ari Burnu Cemetery lies between the beach and the cliff under Plugge's Plateau, about 1 kilometre north-north-west of Lone Pine Cemetery and Memorial. It is well signposted as you come into the ANZAC area.
GRAVES OF INTEREST
| | |
| --- | --- |
| | 82 men of the Australian Light Horse buried here. |
| | |
| --- | --- |
| | CHIPPER brothers, 10th Light Horse (E-15/E-19) |
- killed in action 7th August 1915.
- L/Cpl Lindsay Chipper, age 28.
- Tpr Ross Chipper, age 31.
| | |
| --- | --- |
| | Lieutenant Colonel A.Miell 9th Australian Light Horse |
- Killed at Russell's Top 7th August 1915, aged 45.
- Mentioned in despatches.