BABY 700 CEMETERY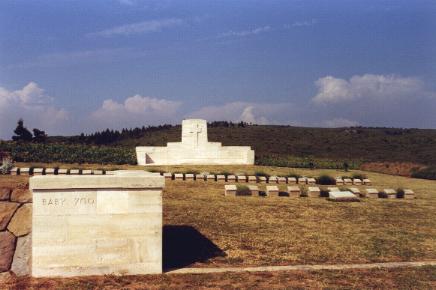 AIF - 33
NZ - 10
UK -1
UNIT NOT KNOWN - 449
HISTORY
Baby 700 was the name given to a hill 180 metres (590 feet) above sea level, part of the Sari Bair range, connecting Russell's Top (by way of the Nek) with Battleship Hill ("Big 700"). (It was marked on the maps as 700 feet above sea level.) It was the objective of the 3rd Australian Brigade on 25th April 1915, and was occupied early in the morning by parties of the 11th and 12th Battalions AIF. They were later joined by part of the Auckland Infantry Battalion NZEF; but in the afternoon they were driven off the hill. It became the objective of several other attacks, particularly in May and August, but it was never again reached. The cemetery was made after the war. It covers an area of 1,356 square yards, and contains the graves of 23 soldiers from Australia and ten from New Zealand, one seaman of the Royal Naval Division, and 449 men whose unit in our forces could not be ascertained. The names of ten Australian soldiers, for whose burial in the cemetery there is evidence, are recorded on special tablets. The cemetery is surrounded on three sides by a belt of trees or shrubs.
LOCATION
Baby 700 Cemetery is located on the road to Chunuk Bair, and is well signposted as you come into the ANZAC area.
GRAVES OF INTEREST
| | |
| --- | --- |
| | Large number of graves of men from 11th and 12th Bns AIF whose remains were found here in 1919. |
| | Major Blair Swannell 1st Bn AIF |
- Killed 25th April 1915, aged 39.
- Swannell was an English international rugby footballer; he had immigrated to Australian before the war.

| | |
| --- | --- |
| | Captain Joseph Peter Lalor 12th Bn AIF |
- Killed 25th April 1915, aged 30.
- He was a grandson of Peter Lalor, who had led the Eureka Rebellion in Ballarat, Victoria, in 1854.
- Led the life of an adventurer, joined the French Foreign Legion, fought in a South American revolution and served in the Royal Navy before he deserted.
- Returned to Australia in 1908 and joined the Australian army.
- As he went into action on 25th April he carried a family sword and was killed leading a charge in the mid-afternoon, on a spur west of Baby 700.