BATTLEGROUND EUROPE:
NEUVE CHAPELLE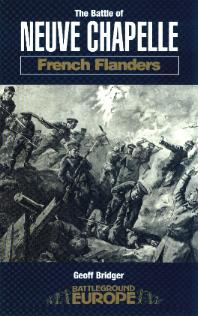 By Geoff Bridger
Pen & Sword Books Ltd 2000
ISBN 0 85052 648 5 -144 pages - £9.95
A recent release in the 'Battleground Europe' series, Neuve Chapelle is the first of the volumes dealing with the often forgotten area between Armentieres and Loos. A finely produced and well written book, it is clear Geoff Bridger has undertaken painstaking research into what was the first British offensive of the Great War, and so far has not been covered in any other book.
As usual there is detailed travel information, routes to follow and the crucial data about the battlefield as it is today. Buy the book - and now there is no excuse not to visit Neuve Chapelle and environs!