VERDUN 1916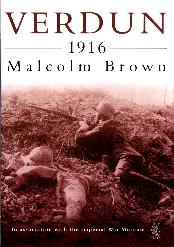 By Malcolm Brown
Tempus Publishing Ltd 1999
ISBN 0 7524 1774 6 - 192 pages - £18.99
This new publication rightly claims it is the first book in English about Verdun in more than thirty years - the last one being Alistair Horne's classic The Price of Glory (first published 1962). However, despite the passage of time and the availability of military records as compared to when Horne was doing his research, Malcolm Brown's new book will not tell the reader anything new. It is simply a fairly basic account of the 1916 Battle of Verdun, from the German preparations through to the initial assault and the famous battle for the forts. There is a very brief account of the battlefields as they are today, but clearly written by someone who has only visited them on perhaps a few occasions. And I would certainly challenge one of his closing statements, that " Nor does Verdun particularly attract as a place for the French to visit": the Mémorial at Fleury predicts that more than two million Frenchmen visited the area in 1998/99 alone!
Overall nothing new, and nothing surprising: not as good as his previous books on the Somme and 1918, and of course the classic Tommy Goes to War. However, given the scarcity of publications on this subject it is worth adding to your library.
The book is available direct from the publisher at 01453 883300

Tempus Publishing Ltd
The Mill
Brimscombe Port
Stroud
Gloucestershire
GL5 2QG

Tempus accept cheques and all major credit cards cards. Customers should add on
£1.50 per book for postage and packaging.