14-18 MAGAZINE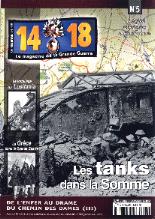 Edited by Christian Castellani
66 Pages. Full colour throughout.
6.95 € per issue (2006).
This French bi-monthly magazine was first published in early 2001, and issue number 5 (above) came out in December 2001. It is the first such magazine to appear in Europe on this subject for many years, and as such is greatly welcomed.
Issue No 5 is the best one so far, with a lead article by French military historian Yves Buffetaut on the tanks during the Battle of Flers-Courcelette. Elsewhere there is the first part of an excellent piece about the French Foreign Legion, which includes much useful material on organisation and officer profiles. There is also the concluding article about the fighting on the Chemin des Dames in April 1917, which has run over previous issues. It is well supported by some fine colour maps, several of which are trench maps.
The biggest problem for most people is that this is, of course, all in French. However, even basic language skills will enable you to get something from 14-18 Magazine, and it is worth buying for the photos and maps alone.
Widely available in newsagents (maison de la presse) and supermarket bookstalls throughout France. The Historial museum in Peronne also stock it, and they are actively supporting the project.
Thoroughly recommended, and to be applauded. One might ask why nothing similar has appeared in the UK?