OSPREY ESSENTIAL HISTORIES
THE FIRST WORLD WAR (1):
THE EASTERN FRONT 1914-1918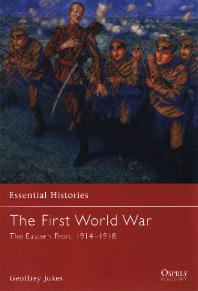 By Geoffrey Jukes
Osprey Publishing 2002 - ISBN 1 84176 342 X
96pp - Paperback - 40 b/w illustrations, 16 colour
£9.95
The new Osprey 'Essential Histories' series was started in 2001 and hopes to evolve into a standard history of conflict. The first few releases were concerned largely with the American Civil War and Napoleonic period, but now we have the initial books for the First World War.
The war on the Eastern Front is largely an unknown chapter of the conflict, and one particularly neglected by English-speaking historians. Indeed, Norman Stone's book from the 1970s is about all that comes to mind. And while we are familiar with the war in France and Flanders, and might even have heard of Tannenberg, the events which unfolded during this complicated period are forgotten - until now.
The author is a specialist in Russian and Soviet military history, in particular the fighting on the Eastern Front in two world wars. Here he has provided us with an approachable and readable introduction to this period, setting the scene and describing some of the key battles, generals and figure heads. The background to the complicated relations between each of the warring nations is particularly well described. The maps for a book of this nature are important, and as with the Western Front volume, they are good - and show the size of this huge conflict which killed five times as many Russians as Germans, but tied up nearly a third of Germany's entire military machine.
A most welcome book on a neglected history; if you only ever buy one book on this subject, then this essential history is just that - required reading.
Copies can be ordered from Osprey Publishing at:
http://www.ospreypublishing.com/