OSPREY MILITARY JOURNAL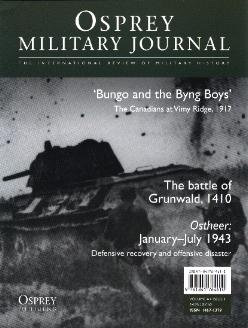 Volume 4 : Issue 1 - January 2002
Edited by Marcus Cowper & William Shepherd
Osprey Publishing Ltd - ISBN 1 84176 461 2
£4.95 SINGLE ISSUE : FROM £25.50 ON SUBSCRIPTION (6 ISSUES)
Osprey Military Journal is now in its third year, being the superbly produced journal of the Osprey military history publishers. Each issue is normally linked into subject matter covered in recent releases, but they are all stand-alone articles and of very high quality. Subscribers also get book offers.
From this issue the magazine has a new look, and while there is not an article on the Great War in every issue, there are two in this one; a biography of Sir Julian Byng, commander of the Canadian Corps 1916-17, and another on the Canadian Corps assault at Vimy Ridge. Both are well written, superbly illustrated and with good quality colour maps. Other articles in this issue cover such diverse subjects as Japanese suicide boats and the war on the Eastern Front in WW2.
This is one of my favourite journals, and one that deserves a wider audience outside of those who regularly buy Osprey publications. Back issues are available and subscription deals good value. Highly recommended.
Postscript - sadly, this journal ceased after a few volumes. Back copies are still available from:
Osprey Direct UK
PO Box 140
Wellingborough
Northants
NN8 4ZA
UNITED KINGDOM
http://www.ospreypublishing.com/