THE 56th DIVISION 1914-1918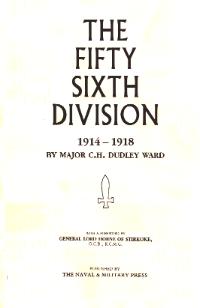 By Major C.H.Dudley-Ward
Naval & Military Press Ltd 2002
Paperback - 331 pages - £22.00
With an ever-increasing interest in the Great War, the desire for information about particular units and formations also grows. In the years immediately following the war, a large number of divisions published their history. These are vital sources of information, but as most were only printed in limited numbers they are now rare, much sought-after volumes, fetching high prices. Naval & Military Press Ltd are now engaged in reprinting these histories, and for that they are to be congratulated.
This one, for 56th (1st London) Division, is a particularly good one. The division existed before the war, but most of its units (battalions of the London Regiment) were dispersed among the regular divisions of the original BEF in 1914/15. In the Spring of 1916 they were reformed into the 56th Division, and took part in the attack at Gommecourt on 1st July 1916. They were selected to train with tanks, and fought for the capture of Combles in September 1916. In 1917 the division fought at Arras and Passchendaele, defended Arras in March 1918, and took part in many of the key battles of the last hundred days of the war. Total casualties from 1916-18 were 34,809.
Major C.H.Dudley-Ward, the author of this volume first published in 1921, wrote a number of WW1 unit histories. They were all well researched and well-written, this being no exception. It chronicles well the story of a fine and highly respected division. Maps illustrate the text, there is a complete order of battle with the names of commanding officers (even for support units) and a useful index.
A highly recommended source book at an affordable price, and essential for any serious Great War library.
The book is available direct from the publisher at 01825 749494.

Naval & Military Press Ltd
Unit 10
Ridgewood Industrial Park
Uckfield
East Sussex
TN22 5QE
Fax: 01825 765701
You can order on-line as well:
http://www.naval-military-press.com/
Email: order.dept@naval-military-press.com
N & MP accept cheques and all major credit cards cards.
Customers should add on
£3.25 per order for postage and packaging (irrespective of the number of books).