GREAT PUSH: AN EPISODE OF THE GREAT WAR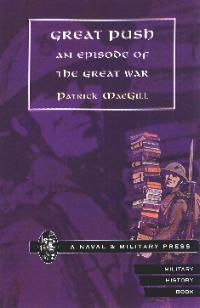 By Patrick MacGill
Naval & Military Press Ltd 2002
Paperback - 254 pages - £11.95
Patrick MacGill is one of the forgotten early authors of the Great War. He enlisted in 1914 in the 18th Battalion London Regiment (London Irish Rifles) and served with them on the Western Front from 1915-16 as a stretcher-bearer. Three books chronicle his service, with Amateur Army (first published 1915) telling the story of the unit's training, to Great Push, and ending with The Red Horizon.
Great Push is arguably the most important and interesting of the three, and this is the one Naval & Military Press have wisely chosen to reprint. It tells the story of MacGill and his comrades in the Battle of Loos, and the London Irish assault on the positions around the Double Crassier on 25th September 1915. As such, it is a rare other ranks account of this forgotten British offensive. He also relates the story of men from this unit kicking footballs into No Man's Land at zero hour; something many will have thought was unique to the Somme.
MacGill was a fine writer, and while the book reads a little like a novel in places, it is entirely based on his own experiences. His pen-portraits of his comrades are fascinating, and his description of life in the line a moving insight into the trenches.
Recommended reading - and well done to N & MP for reprinting this book!
The book is available direct from the publisher at 01825 749494.

Naval & Military Press Ltd
Unit 10
Ridgewood Industrial Park
Uckfield
East Sussex
TN22 5QE
Fax: 01825 765701
You can order on-line as well:
http://www.naval-military-press.com/
Email: order.dept@naval-military-press.com
N & MP accept cheques and all major credit cards cards.
Customers should add on
£3.25 per order for postage and packaging (irrespective of the number of books).