FORGOTTEN BATTLEFRONTS OF
THE FIRST WORLD WAR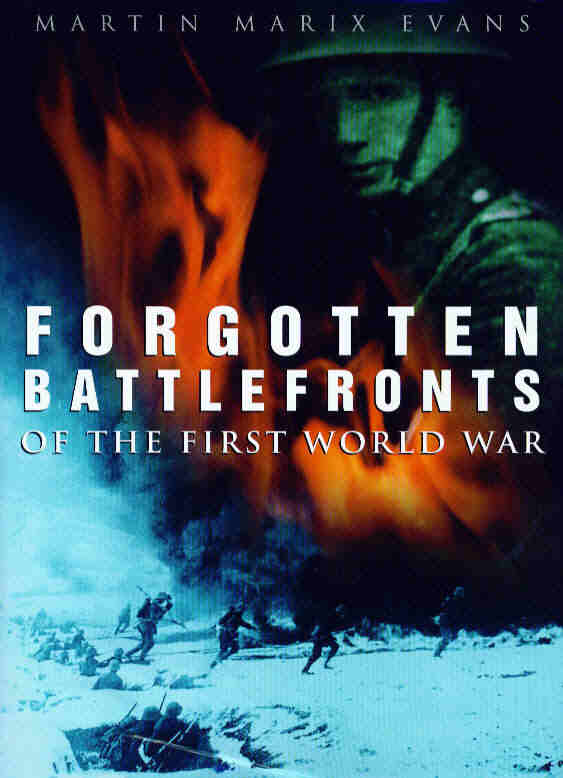 By Martin Marix Evans
Sutton Publishing 2003 - ISBN 0 7509 3004 7 - 258 pp - Profusely illustrated plus map - £25.00
While to some it might appear, given the level of interest in all things WW1, that there can be no 'forgotten battlefronts' of the First World, this book certainly proves this theory wrong. The author has carefully chosen a series of such battlefields, and not just in locations like Salonika and Italy. There are also chapters on forgotten parts of the Western Front - places that see very few British visitors; Nieuport, Dixmude, and the Vosges.
The coverage on all fronts is in some detail, and the book is profusely illustrated, many of which are in print for the first time. Modern photos of the battlefields today are usually in colour, and one of the strengths of the book are the maps - which are excellent. Many of them are rare wartime maps, and again most are in colour. Given the this amount of detail and colour, the book is well worth the cover price.
Mr Marix Evans, a prolific author, has once again given us a superb and well research title on a much neglected Great War subject. Highly recommended.
Available from:
Sutton Publishing
Phoenix Mill
Thrupp
Stroud
Gliucestershire
GL5 2BU
Tel: (01453) 731114
Web: http://www.suttonpublishing.co.uk