SOMME 1916: A BATTLEFIELD COMPANION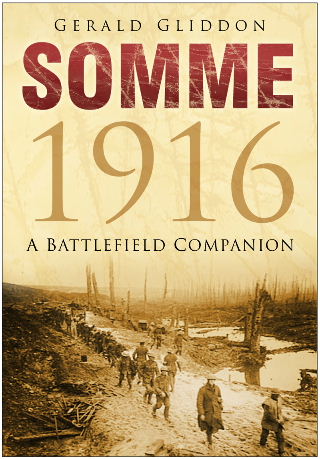 Gerald Gliddon
Sutton 2006 : ISBN 0 7509 3690 8 : 550pp : Illustrated & Maps : £25.00
Somme 1916, Gerald Gliddon's lavishly illustrated topographical survey of the Somme battlefield, first published in 1987 to critical acclaim, has become a classic reference for all those interested in this most horrific of First World War battles, which caused over a million casualties. Somme 1916 covers everything from the famous battle sites such as High Wood and Mametz Wood to obscure villages on the outlying flanks.

The British first began to take the Somme sector over from the French Army in July 1915. From then on, they built up a close bond with the local population, many of whom continued to live in local villages close to the front line. The author draws on the latest research and analysis, as well as the testimony of those who took part, to present all aspects of a battle that was to become a symbol of the horrors of the Great War. This edition of Somme 1916 has been greatly expanded and updated to include a Somme diary, a new selection of contemporary illustrations, a complete order of battle for the British and German forces in the Somme for July to November 1916 and a listing of 'lost cemeteries'.

Also included in Somme 1916 is a full history of the current cemeteries and memorials, thumbnail biographies of all the senior officers to fall, as well as the winners of the Victoria Cross and those who were 'shot at dawn'. In addition, Somme 'personalities' such as George Butterworth are covered in far greater detail than before. Somme 1916 is essential reading for anyone interested in the First World War.
The books will be published in May 2006. For details see the Sutton website or order via Amazon: