CROONAERT WOOD - BAYERNWALD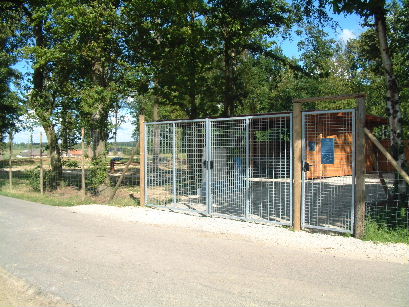 This small area of woodland was taken by German troops in 1914, and during the winter of 1914/15 a system of trenches was constructed in the what the Allies called 'Croonaert Wood', but which the Germans named 'Baynerwald' ('Bavarian Wood') as it was Bavarian units which had first been stationed here. Adolf Hitler had served here in 1914/15, and was awarded an Iron Cross close by, while working as a Company Runner. He returned to visit the site in June 1940, following the fall of France.
A trench museum was opened here in the 1970s by the late Andre Becquart, which closed on his death in 1986. For many years the wood was overgrown, until it was purchased by the local authorities. A group of volunteers and military archaeologists then cleared the site, and re-dug the trench system as it had been in 1915, using an original wartime map.
On display now is a whole system of re-created German trenches, which make fascinating viewing. The site is further enhanced with information panels, with clear text and many wartime photographs.
It is not open all the time, and visits must be made in co-operation with the Kemmel tourist office (see below). From 2005 you must now go to the Tourist Office in Kemmel and pay a small entrance fee (1,5 Euros per person). They then give you the access code to enter the wood.
For visits and group bookings contact:
VVV Heuvelland
Reningelststraat 11
8950 Kemmel
Belgium

Tel: 0032 57 45 04 55
Email: vvvheuvelland@skynet.be
Web: http://www.heuvelland.be
HOW TO GET THERE
From the centre of Wytschaete (now Wijtschate) go right, following the road downhill past the church (on your right). Then go past the football field and take a minor road at the next junction ; i.e. the first turning on your right in a wooded area. Follow this road until you reach an information panel and parking area on your left. You will also see Croonaert Chapel British Cemetery in the fields on your left. Park here, and on foot go to the viewing panels which have wartime photos of the area on. Then follow the minor road on foot along the wood to the main entrance gate.
| | | | | |
| --- | --- | --- | --- | --- |
| | | | | |
| Trenches in Bayernwald. | Original German bunker. | Trench design used in Bayernwald. | General view of the site. | Plan of Bayernwald trenches. |
ŠPaul Reed 2004-2006