DICKENS CROSS, GINCHY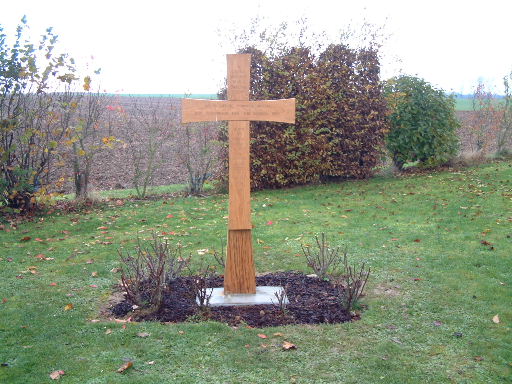 The new Dickens Cross, November 2004
Major Cedric Charles Dickens was a grandson of the famous Victorian author, Charles Dickens. He was killed leading his men into battle near Bouleaux Wood ('Bully Wood') on 9th September 1916, while serving with the 1/13th Battalion London Regiment (Kensingtons). Buried on the spot, the grave was made permanent by his men in 1917. The family returned after the war and bought the ground on which 'Ceddy' was buried, and turned his grave site into a small memorial garden, erecting a large oak cross. It remained like this for many years, and when I first saw it in 1985 had become an overgrown thicket with the cross engulfed by bushes and trees. In the early 1990s the ownership of the land changed under French law, and the cross was moved to its present location a short distance away. As it was a war grave, efforts were made by the Commonwealth War Graves Commission to exhume the body, but after a long search nothing was found and Major Dickens' name was added to the Thiepval Memorial. The cross was now more exposed than it had ever been, and after a decade in the open was beginning to show signs of decay. In early 2004 the Dickens family made moves, along with the commune of Ginchy, to replace the old cross with a new one and move the original into Ginchy church. After some months, this was fittingly completed in time for Remembrance weekend in November 2004, when the Dickens family came out to dedicate the old cross and unveil the new one. Many villagers from Ginchy and nearby Combles were present for the ceremony, and M. Camus from the Somme Tourist Board was also present, along with representations from the Western Front Association and Souvenir Francais.
The ceremony was led by Bishop Michael Whinney, and the cross unveiled by the oldest and youngest members of the family present; Cedric Dickens who was born in 1916, and Ollie Dickens. Madame Desailloud, mayor of Ginchy, read a moving speech thanking the family for their continued connection with the village, and the Last Post was sounded.
The memorial is located down a minor track, just off the D20 road from Guillemont to Combles. It is well signposted, and more about Major Dickens and the battle in which he fell can be read in my book on Combles, in the 'Battleground Europe' series.
| | | | | |
| --- | --- | --- | --- | --- |
| | | | | |
| The original cross as it was. | The new cross being unveiled on 14th November 2004. | Cedric Dickens unveils the cross. | Mme Desailloud, mayor of Ginchy, reads her speech. | The original cross now in Ginchy church. |
ŠPaul Reed 2004