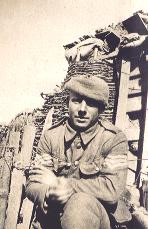 BRITISH REGIMENTS
IN WW1
THE BRITISH ARMY &
THE FIRST WORLD WAR 1914-1918
Researching a soldier of the British Army in WW1? CLICK HERE.
WHAT IS A BRIGADE & DIVISION?
Because Regiments never fought as Regiments, but as individual Battalions, these Battalions had to be attached to larger formations on the battlefield so that some degree of Command and Control could be exercised over them. In the British Army in WW1 the basic formation was the Division, made up of three Brigades.
Infantry Brigades
In August 1914, an Infantry Brigade was comprised of four Battalions.
Commanded by a Brigadier General, he had a staff of officers and men which made up his Brigade Headquarters. With four Battalions under his command, the War Establishment of the Brigade was more than 4,000 officers and men.
Brigades were normally numbered (eg. 12th Brigade), but in the Territorial Force (T.F.) they were usually named. For example the 5th and 6th T.F. Battalions South Staffordshire Regiment, and 5th and 6th T.F. Battalions North Staffordshire Regiment together formed the Staffordshire Brigade.
On the outbreak of war some Brigades were temporarily disbanded, particularly in the T.F. The Battalions were often sent overseas, and attached to existing Brigades in France for training. This meant that in 1915 some Brigades had five Battalions. By 1916, most T.F. Brigades had been reformed and the majority of Brigades were back to four Battalions.
In February 1918 the whole British Expeditionary Force was re-organised. Lack of re-enforcements meant that it was no longer practicable to maintain four Battalions. Therefore one was disbanded, and Brigades thereafter were comprised of three Battalions, and organisation that remained in use to beyond WW2.
Infantry Divisions
The Division was the main fighting formation on the battlefield.
Commanded by a Major General, he and his Staff of 15 officers and 67 men controlled three Brigades, each of four Battalions. Because a Division was a self-sufficient fighting force, it did not just comprise of infantry. In addition to the three Infantry Brigades there were:
| | |
| --- | --- |
| | Artillery: three Royal Field Artillery Brigades, a Howitzer Brigade, a Heavy Battery of the Royal Garrison Artillery and a Divisional Ammunition Column, which supplied the artillery brigades with their shells. |
| | Engineers: three Royal Engineer Field Companies. |
| | Divsional Train: nothing to do with steam engines, this was the Division's transport, comprising three Companies from the Army Service Corps. |
| | Medical: three Field Ambulances from the Royal Army Medical Corps. |
| | Veterinary: because most transport was horse drawn, there were Veterinary Sections from the Army Veterinary Corps. |
There was also a Divisional Signal Company of the Royal Engineers, plus Mounted Troops and a Cyclist Company.
These units combined would make the strength of a Division more than 18,000 officers and men.
As the war progressed, Tactical requirements on the battlefield meant that the composition of a Division changed regularly. In the Infantry Brigades from early 1916 onwards there was a Machine Gun Company of the Machine Gun Corps, and a Trench Mortar Battery equipped with 2-inch Stokes mortars.
At Divisional level, there were many changes and additions. The Heavy Artillery units were removed in early 1915. Heavy Trench Mortar Batteries, manned by Royal Garrison Artillery personnel, were added by the time of the Somme in 1916. Labour units were added from 1916, including a Divisional Pioneer Battalion (a former infantry Battalion converted to pioneer status). A fourth Machine Gun company was attached to every Division from April 1917. A Divisional Employment Company was formed in every Division in May 1917. In February 1918 the now four Machine Gun companies were amalgamated to form a Divisional Machine Gun Battalion, which took the number of the Division (eg. 5th Division had a 5th Battalion MGC).
This meant that by 1918 although a Division on paper was now smaller in terms of manpower (16,000 men instead of 18,000 in 1914), it had more co-rdinated artillery support from field guns and mortars, and more than 400 machine guns (Vickers and Lewis) instead of the 24 in August 1914.
By the close of the War there were 75 Divisions in the British Army. Many had never seen service outside of England. Of this total, 12 were Regular Army, 30 were Territorial Force, 30 New Army (war time raised Divisions), 1 Royal Naval Division and 2 Home Service Divisions.

ŠPaul Reed 2004