PIPER DANIEL LAIDLAW VC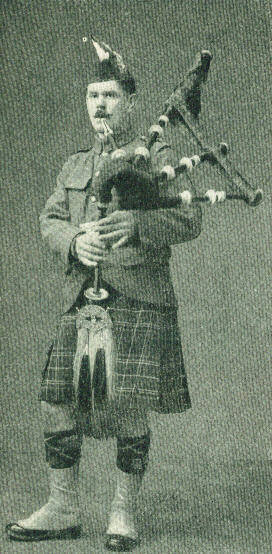 7th Bn KING'S OWN SCOTTISH BORDERERS
Piper Daniel Laidlaw was arguably one of the most famous characters in the Battle of Loos. Born in 1875, he had served as a regular soldier in the Durham Light Infantry and then King's Own Scottish Borderers (KOSB) before WW1. Recalled in 1914, he became a Piper in the 7th Battalion, part of the 15th (Scottish) Division. He went to France in June 1915, and in the attack on Loos village on 25th September 1915, Piper Laidlaw piped his battalion over. The citation to his Victoria Cross appeared in the London Gazette on 18th November 1915:
"For most conspicuous bravery prior to an assault on German trenches near Loos and Hill 70 on 25 September 1915. During the worst of the bombardment, Piper Laidlaw, seeing that his company was badly shaken from the effects of gas, with absolute coolness and disregard of danger, mounted the parapet, marched up and down and played company out of the trench. The effect of his splendid example was immediate and the company dashed out to the assault. Piper Laidlaw continued playing his pipes until he was wounded."
Some reports at the time stated that Laidlaw had been killed, or had died of his wounds, but he survived and was promoted to Sergeant-Piper, leaving the army in 1919. He appeared in the 1930s film 'Forgotten Men', when he played the tune he had piped 7th KOSB over the top with in 1915. Daniel Laidlaw died in 1950.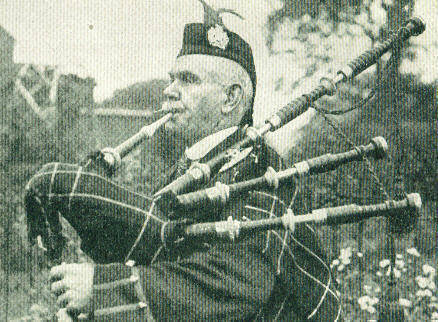 Daniel Laidlaw VC in the 1930s ('I Was There' p.473)
| | | |
| --- | --- | --- |
| | | |
| Article on Laidlaw from Illustrated War News 24.11.15 | Illustration of Laidlaw from Deeds That Thrill The Empire | Contemporary illustration of Laidlaw at Loos. |

Web Links
Daniel Laidlaw VC by Iain Stewart - includes a photo of his grave.
Daniel Laidlaw VC - Wikipedia page.

ŠPaul Reed 2005