DUCKWORTH MEMORIAL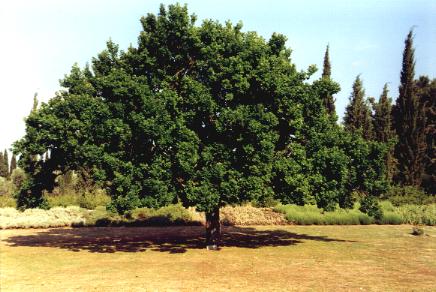 Eric Duckworth was the son of James and Mary Duckworth of Dunsterville, Rochdale, Lancs. He was educated at Rugby, and joined the 1/6th Battalion Lancashire Fusiliers in 1914. This unit was posted to Egypt, and then Gallipoli in May 1915 with 42nd (East Lancs) Division. Duckworth was killed on 7th August 1915, aged 19. His grave was never found, and he is commemorated on the Helles Memorial to the missing.
On 7th August 1915 the 1/6th Lancashire Fusiliers was involved in an attack on the Krithia Vineyard. Its objectives were taken following hand to hand fighting, and despite several counter-attacks.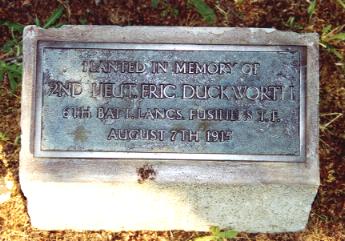 The memorial plaque to 2/Lt Duckworth.
In 1922, Duckworth's parents visited Gallipoli and planted an oak sapling in Redoubt Cemetery, and also placed a memorial in front. It is still there today.
There are articles about Duckworth in The Gallipolian, the journal of the Gallipoli Association, in issues No 56 Spring 1988 and No 80 Spring 1996. The latter includes a letter describing his death, and a drawing Duckworth did of his trench; he named his dugout Dunsterville after his parent's home in Rochdale, which is now an office of the Inland Revenue.