LE MEMORIAL MUSEUM
ESSIGNY LE GRAND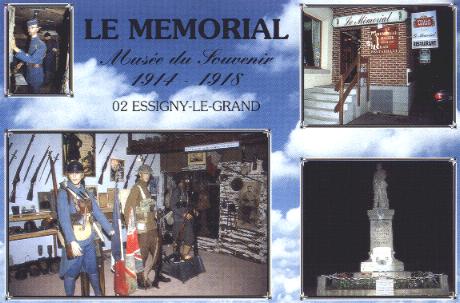 MUSEUM OF THE GREAT WAR 1914-1918
There are very few museums on the Hindenburg Line Battlefields, so this is to be welcomed. Started some years ago in the confines of the owners cafe/restaurant, the museum has a vast array of uniforms, equipment, weapons, photographs and other personal items. Much of the material on display is specific to the area, and in the garden the owner has constructed a 'trench' cover in battlefield artifacts.
Essigny le Grand is only a few kilometers from St Quentin, and the museum/cafe is right in the middle of the village on the main street. It was in the British sector on 21st March 1918, the 14th (Light) Division defending the village, with 36th (Ulster) Division not far away as well. It fell into German hands, and was retaken by French troops in October 1918.
Entrance to the museum is free, but donations are welcomed. Lunches and evening meals are available, and the cafe is always open. It serves as an excellent stop for any visit to this area of the battlefields.
For further details contact:
Le Memorial
Musee de Souvenir 1914-1918
1 rue des Marroniers
02690 ESSIGNY LE GRAND
FRANCE
TEL: 0033 3.23.63.38.16.
ŠPaul Reed 2006