YPRES: THE FORGOTTEN BATTLEFIELD
'MEET THE ANCESTORS' SPECIAL
BBC2 - 9PM (22.00 CET) - WEDNESDAY 6th MARCH 2002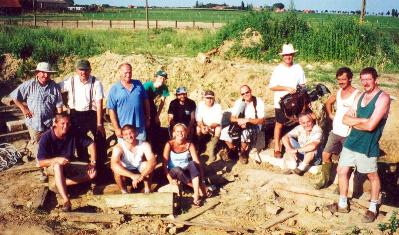 'Forgotten Battlefield' - The Team, photographed at Fortin 17 in August 2001.
For several years a local Belgian archaeology group, known as The Diggers, have been working on a site of the former front at Boesinghe, north of Ypres. Following the fighting in April 1915, during Second Ypres, the trenches were established here and hardly moved for the next two years. During that time regulars from 4th Division, territorials from 49th (West Riding) Division, Kitchener's men from 14th (Light) Division and the Guards all passed through here. The ground was finally captured, during the Battle of Passchendaele, on 31st July 1917, by elements of 38th (Welsh) Division.
In the course of their work The Diggers found evidence of all these units, of the men who fought and died here, and the remains of more than 120 soldiers of all sides who found their graves here. They also found trenches, strongpoints and dugouts. Their hard work resulted in a superb exhibition in Boesinghe (now Boezinge) in November 2000, and one of those who visited it was John Hayes-Fisher, a producer at the BBC. John, a Great War enthusiast himself, realised that there was a programme in what the Diggers were doing, and 'Forgotten Battlefield' is the result.
The programme went out on Wednesday 6th March 2002, and there was a great deal of interest in it among the media. It attracted 3½ million viewers that night, which was about 16% of the audience share.
Some of the press reaction:
" It looks like an archaeological dig at Pompeii. Instead of Roman urns, however, urn-shaped poison gas bombs are being dug-up; while the skeletons, still in their boots and tin helmets, were encased in Flanders mud within living memory. Boesinghe, near Ypres in Belgium, barely makes a footnote in histories of the First World War, but a group of local amateur diggers have uncovered miles of front-line trenches and evidence of at least hitherto unrecorded battles. This thought-provoking film looks at their attempt to catalogue the past before a new industrial estate entombs it forever."
The Independent 6th March 2002 'Documentary of the Day'
" ... a fascinating tale ... surprisingly moving."
Time Out magazine 7th March 2002
Photos of the work of The Diggers can be found at:
http://www.flickr.com/photos/dediggers/
BBCi has an article on 'The Forgotten Battlefield', written by myself, on their BBC History site:
http://www.bbc.co.uk/history/familyhistory/get_started/boesinghe_01.shtml