Gallipoli Battlefields
The Dardenelles 1915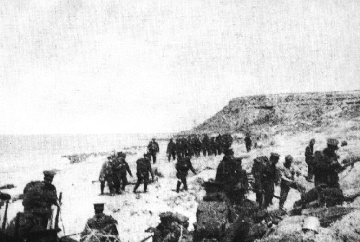 The battlefields at Gallipoli were for many years difficult to reach and hostile to visitors - in more ways than one! Today modern Turkey is very different and a visit to Gallipoli is a pleasure - but still a great adventure compared to France and Flanders. These pages provide information gathered over many years studying the campaign, and numerous visits to the Gallipoli battlefields, including filming I did with the BBC in 2003 and trips to Gallipoli in May 2006 and May 2007 with a group from Leger Holidays.
The latest Gallipoli updates are found here.
Dedicated to:
PO Bertie S.Reed
HMS Implacable W Beach 25th April 1915

Pte Dan Boyles 1st Essex Wounded Krithia, served until evacuation

Pte Thomas Sainty 1st Essex Killed in Action 8th May 1915



Researching someone who fought at Gallipoli? Visit my WW1 Research Page.
New Gallipoli book review - Hell Let Loose: 1/7th Lancashire Fusiliers.
Paul Reed