GALLIPOLI CEMETERIES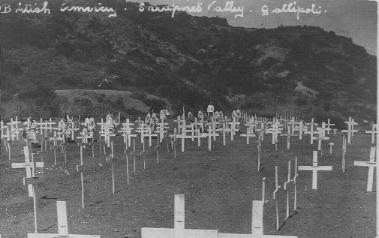 Shrapnel Valley Cemetery in the early 1920s (Photo: ©Paul Reed)
There are thirty-one CWGC cemeteries on the Gallipoli peninsula, and five memorials to the missing. During the course of an average seven day stay, they can all be visited without any rushing round. The only ones we had difficulty in getting to were 4th Battalion Parade Ground and The Farm, both of which were down long and often difficult goat tracks. The Farm was in May 2000 also poorly signposted, and we lost our way at one point. But it was worth the trek – as are all these special gardens of remembrance which do great credit to the work of the CWGC.
The majority are in the ANZAC sector, as post-war the Australians made a conscious decision to have battlefield cemeteries, where as the British chose to concentrate the majority of their dead into larger cemeteries. The missing, the largest proportion of those killed, are commemorated on the Chunuk Bair, Hill 60 and Lone Pine Memorials at ANZAC, and on the Helles Memorial.
If you are used to the cemeteries on the Western Front, you will observe some noticeable differences here. First, there are no Crosses of Sacrifice: the cross is normally incorporated into the wall of the cemetery. Headstones are smaller with no regimental badges, but record the same details about the soldier, including a personal inscription from the family, if there is one. Some cemeteries appear very small because there are only a few headstones, but this is misleading as only the known casualties are commemorated with a headstone; the unknowns are not marked except in the original cemetery plan. A good example of this is The Farm where there are only seven identified soldiers (and so only seven headstones), but there are more than 600 unknowns buried here as well.
In each case, historical details of the cemeteries are included, plus how to find them. Graves of particular interest I noticed while visiting them are noted, but this is obviously a personal choice.
Paul Reed
Researching someone who fought at Gallipoli? Visit my WW1 Research Page.