GALLIPOLI LINKS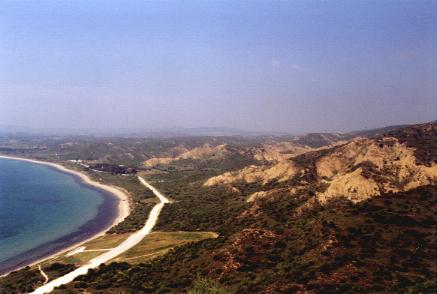 Anzac Cove from the Sphinx May 2000
Links to sites on the web that have information about the fighting at Gallipoli, or visiting the battlefields as they are now.

An excellent site with a host of historical information, useful Gallipoli place-name gazetteer and 'rough guides' to various parts of the battlefield. Highly recommended!
Official web site of the only Gallipoli Association, and very much worth being a member of - you receive two copies of the excellent 'Gallipolian' magazine each year. The site itself contains much useful information.
GALLIPOLI - A TRIP TO THE DARDENELLES
This is part of Paul Hinckley's Old Contemptible web site, and includes information gleaned from his recent trip in September 2001. Recommended.
THE GALLIPOLI CAMPAIGN: REVISITING HISTORY
An article on Tom Morgan's Hellfire Corner web site. Written from the Australian perspective, it is nevertheless a good article, and useful for any visit. Recommended.
ANZAC OFFICERS DIED AT GALLIPOLI
Superb site with biographical details of all AIF and NZEF officers who fell at Gallipoli - many with photos.
GALLIPOLI - THE DRAMA OF THE DARDENELLES
Official Imperial War Museum site about the Gallipoli campaign.
TJ is a local Turk who runs tours of the battlefields at Gallipoli and has a hotel in Eceabat.
Australian teaching website, but with useful historical information and help with visiting the battlefields.