WICRES (LA BASSÉE ROAD) GERMAN CEMETERY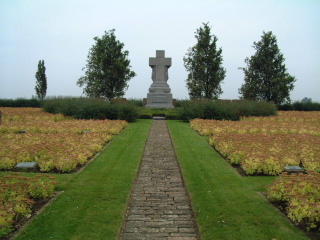 Burials - 584
This cemetery was made in 1915, and is located on the old road running from La Bassée (now a fast road to the motorway near Lille). Located on the eastern side of the Aubers Ridge, this area was well behind the German lines and there as a Dressing Station in nearby Wicres, and gun sites in the fields near the cemetery.
One of those who used the cemetery was the Infantry Regiment of Prince Frederick of the Netherlands, 2nd Westphalien Regiment No 15. The main cross forms their memorial.
LOCATION: On the N41 from La Bassée to Lille. Parking in a lay-by in front of the cemetery.

©PAUL REED 2002