HILL 60 NEW ZEALAND MEMORIAL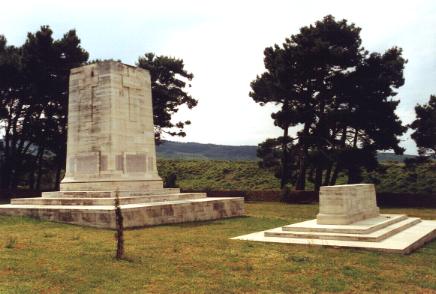 NZ - 182
HISTORY
Four memorials are erected to record the names of the New Zealand soldiers who fell on the Gallipoli Peninsula and whose graves are not known. The Lone Pine Memorial relates to the dead in what is called the original Anzac area, which was won by the Australian and New Zealand Army Corps in April, 1915, and held during the Defence of Anzac in the middle of May. The Chunuk Bair Memorial relates to the capture of Chunuk Bair in August, 1915, and the subsequent fighting in the enlarged Anzac area. Hill 60 Cemetery is in the Northern part of the Anzac area, bordering on the Suvla Bay area. It stands among the trenches made in the Actions of Hill 60 (still visible in May 2000), and it was made after the Armistice by the concentration of 42 graves from the battlefield. Twenty-eight graves at least are those of New Zealand soldiers who fell in the Actions now to be described, or in the trench fighting which followed immediately. At the beginning of August, 1915, Hill 60 was in Turkish hands, and it commanded the shoreward communications between the Anzac and Suvla forces. On the 21st August, in the Battle of Scimitar Hill, the Suvla forces attacked the hills immediately North of Hill 60; and on that and the following day Hill 60 was attacked from Anzac by the Canterbury and Otago Mounted Rifles, followed later by the 18th Australian Infantry Battalion and supported on the flanks by other troops. It was partly captured, and the captured ground was held. During the period 27th-29th a further attack was made by the New Zealand Mounted Rifles and the 10th Australian Light Horse, resulting in the capture of the greater part of the crest; this ground was held until the evacuation in December. The Maori Contingent took part in the former engagement. The New Zealand Mounted Rifle Brigade lost very severely in the two Actions of Hill 60. They left a few officers and men on the spot as machine gun crews and the remainder, 20 officers and 229 other ranks, were withdrawn for a time to Mudros. The Hill 60 Memorial takes the form of an obelisk 22 feet high, rising from a stone platform placed in the middle of the cemetery, and the names are inscribed on panels built into the masonry at the base of the obelisk. It commemorates 182 dead, of whom 27 belonged to the Auckland Mounted Rifles, 65 to the Canterbury, 31 to the Otago and 48 to the Wellington; nine were in the Maori Contingent and two in the New Zealand Engineers. The general inscription is in these words:-
"Here are recorded the names of officers and men of New Zealand who fell in the Actions of Hill 60, August, 1915, and in September, 1915, and whose graves are known only to God."
LOCATION
Hill 60 (New Zealand) Memorial is situated in Hill 60 Cemetery, which lies among the old trenches. It is reached along a 800 metre track, which requires a 4-wheel drive vehicle during wet weather. The Memorial takes the form of an obelisk 22 feet high, rising from a stone platform placed in the middle of the cemetery, and commemorates the New Zealand soldiers who fell on Hill 60 and whose graves are unknown. The names of the war dead are inscribed on panels built into the masonry at the base of the obelisk.
NAMES OF INTEREST
| | |
| --- | --- |
| | Two brothers from Christchurch: |
- Trooper Edward Brittan, aged 24.
- Lance Corporal Henry Brittan, aged 27.
- bother served with Canterbury Mounted Rifles and were killed on 28th August 1915.
| | |
| --- | --- |
| | Rev. William Grant attached Wellington Mounted Rifles |
- Killed 28th August 1915, aged 56.
- Was killed while looking for wounded in captured trenches close to Hill 60.