ORANGE TRENCH BRITISH CEMETERY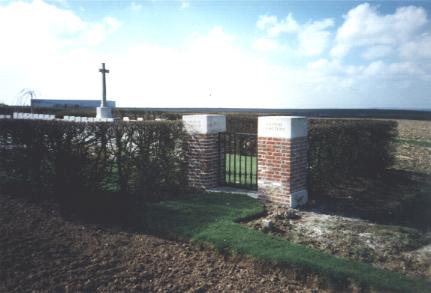 UK - 112
UNIDENTIFIED - 59
SPECIAL MEMORIALS - 6
HISTORY
Monchy le Preux is a village and commune in the Department of the Pas-de-Calais, east of Arras, on the northern side of the main road between Arras and Cambrai. Orange Trench Cemetery is close to the village, on the minor road to Fampoux. Orange Hill, and Orange Trench, were features of the Hindenburg Line defences, through which British troops fought their way in April 1917, during the Battle of Arras. The Canadian Corps returned here in August, 1918 and recaptured the ground, lost in March. Orange Trench Cemetery was made after the fighting of the 9th/11th April 1917, when the 12th (Eastern) and 37th Divisions took Monchy. The cemetery covers an area of 515 square yards; and it contains the graves of 112 soldiers from the United Kingdom, of whom 59 are unidentified. Six special memorials are erected to soldiers known, or believed, to be buried here among the unnamed graves.

LOCATION
Monchy le Preux is on the north side of the D33 main road from Arras to Cambrai. The cemetery is west of the village, down a long minor road. It is well signposted.

GRAVES OF INTEREST
| | |
| --- | --- |
| | Captain D.S.Harding MC 13th Royal Fusiliers (D-21) |
- Killed 10th April 1917, aged 32.
- Also served in German South-West Africa with Natal Caribineers.
| | |
| --- | --- |
| | Captain K.M.Wearne 2nd Bn Essex Regiment (Sp Mem 3) |
- Killed 21st May 1917.
- Brother of 2/Lt F.B.Wearne VC, 11th Essex, killed 28th June 1917 (Loos Memorial).