SUNKEN ROAD CEMETERY, VILLERS-PLOUICH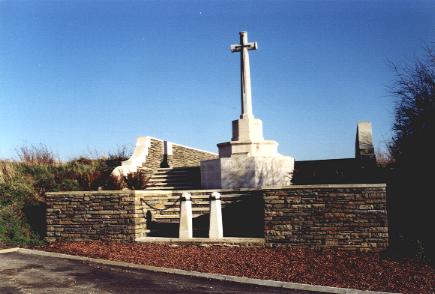 UK - 51
UNIDENTIFIED - 3

HISTORY
Sunken Road Cemetery is half-way between the villages of Villers-Plouich and Beaucamp, on the north side of the sunken road. It contains the graves of 51 soldiers (and sailors of the Royal Naval Division) from the United Kingdom who fell in December 1917 (largely on Welsh Ridge), and in January and September 1918. Of these three are unidentified. The cemetery covers an area of 307 square yards. It is enclosed on three sides by a low rubble wall, and planted with crab-apple trees and roses. It stands above the level of the road, and the villages of Gonnelieu and Gouzeaucourt can be seen from it.

LOCATION
Villers-Plouich is a village in the Department of the Nord, 2 kilometres north of Gouzeacourt which is 19 kilometres north-east of Peronne on the D917 and 16 kilometres south-west of Cambrai (N44/D917). This small Cemetery is signposted to the left as you pass the Villers Plouich Mairie on the D56 from direction Gouzeaucourt. It lies 500 metres past this signpost as you ascend a small unmarked road which eventually would lead to the hamlet Beaucamp.

GRAVES OF INTEREST
| | |
| --- | --- |
| | Petty Officer H.C.Williamson MM & Bar 189th Trench Mortar Bty RND (A-45) |
- Killed 30th December 1917, aged 21.