HINDENBURG LINE CEMETERIES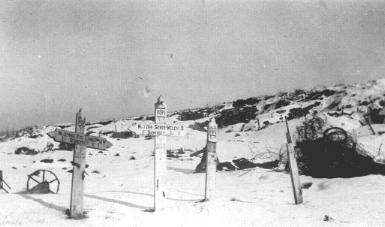 Isolated graves of 1st Somerset Light Infantry, Monchy 1918.
There are more than 200 British cemeteries on the Hindenburg Line battlefields, from Arras to Cambrai and beyond to St Quentin. Because these battlefields were the scene of fighting in 1917-18 they differ to some other areas of the Western Front and the main categories of cemeteries here are as follows:
BATTLEFIELD CEMETERIES: There is a much greater proportion of battlefield cemeteries in this sector of the Western Front than in any other; the fighting here was fluid, and often in a small area. At the end of the war there were numerous small 'comrades' cemeteries with graves from particular battalions, brigades or divisions. In the Arras area most of these were concentrated into larger burial sites, but from Cambrai to St Quentin this was less common, and there are many examples of this type of cemetery; at Epehy, for example, it is possible to follow the line of attacks of 33rd Division in September 1918 from Domino Cemetery across the fields to Pigeon Ravine Cemetery: an almost unique occurance.
CONCENTRATION CEMETERIES: In the Arras area the majority of burial sites and isolated graves were concentrated into large cemeteries. Key examples of these are Orchard Dump Cemetery, Arleux, and Vis-en-Artois British Cemetery.
BEHIND THE LINES CEMETERIES: Like most parts of the battlefield, cemeteries created close to the site of Advanced Dressing Stations and Casualty Clearing Stations are not uncommon. In this area some examples include Rocquigny-Equancourt Road British Cemetery, on the site of a CCS, and Red Cross Corner Cemetery, Beugny, on the site of an ADS.
Paul Reed

SELECTED HINDENBURG LINE CEMETERIES
CLICK ON THE NAME FOR FURTHER DETAILS