VISITING THE HINDENBURG LINE
BATTLEFIELDS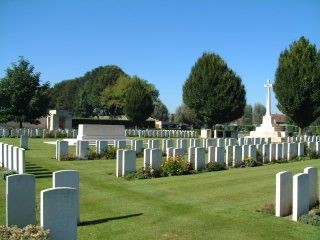 SOME NOTES FOR FIRST TIME VISITORS
The Battlefields of the Hindenburg Line are not as frequently visited as those of the Somme or Ypres, but nevertheless contain more than 300 British cemeteries and memorials from the First World War. I often receive enquiries about where to stay, what to see and where to go, so I offer some notes for the first time visitor and those thinking of seeing this part of the Old Front Line.
WHERE ARE THE HINDENBURG LINE BATTLEFIELDS?
The German defences of the Hindenburg Line, or Siegfried Stellung as they called it, ran from a position east of Arras to near St Quentin on the British sector. So we are largely talking about the areas around Arras, Cambrai, Peronne and St Quentin.
HOW TO GET THERE
From Calais take the A26, following signs for PARIS. After an hour you will be in the area of ARRAS. Stay on the A26 and come off at MARQUION for the CAMBRAI sector or ST QUENTIN CENTRE for the ST QUENTIN sectors.
WHERE TO STAY
This is obviously very much a personal choice, and some may wish to include a visit to these battlefields along with a general visit to the Somme or Ypres. However, there are numerous places to stay at Arras, Cambrai and St Quentin, and each of these towns has its own tourist information office. Personally I think Peronne offers the best base for this area and some hotels there are:
HOSTELLERIE DES REMPARTS
23 Rue Beaubois, 80200 PERONNE.
Tel: 0033 3.22.84.01.22. Fax: 0033 3.22.84.31.96.
HOTEL MERCURE, ASSEVILLERS
1 aut Aire, 80200 Assevillers (just off A1 motorway).
Tel: 0033 3.22.85.78.30. Fax: 0033 3.22.85.78.31.
Web: http://www.mercure-peronne.com/
HOTEL RESTAURANT CAMPANILE
Route Paris, 80200 PERONNE.
Tel: 0033 3.22.84.22.22. Fax: 0033 3.22.84.16.86.
HOTEL SAINT CLAUDE
42 Place Louis Daudre, 80200 PERONNE.
Tel: 0033 3.22.84.46.00. Fax: 0033 3.22.84.47.57.
Web: http://www.hotel-saintclaude.com/
Bed & Breakfast - Bullecourt
Mr et Mme Therlier
'La Nicolinere', 52 Route de Douai, 62128 Bullecourt.
Tel: 0033 3 21 48 91 27.
There is a camping site on the Arras battlefields near Boiry-Notre-Dame.
BOOKS & MAPS
The following books are available in the 'Battleground Europe' series from Pen & Sword Books:
The Hindenburg Line - Peter Oldham
Bullecourt - Graham Keech
Cambrai: The Right Hook - Nigel Cave & Jack Horsfall
Epephy - Bill Mitchinson
Gavrelle - Kyle Tallet & Trevor Tasker
Monchy le Preux - Colin Fox
Riquerval - Bill Mitchinson
St Quentin - Helen McPhail & P.Guest
Villers-Plouich - Bill Mitchinson
Vimy Ridge - Nigel Cave
Walking Arras - Paul Reed (to be published 2002)
Other useful books for this sector include:
The Kaiser's Battle - Martin Middlebrook (various editions)
Cheerful Sacrifice: The Battle of Arras - Jon Nicholls (Leo Cooper)
The Blood Tub: Bullecourt 1917 - Jonathon Walker (Spellmount 1998)
The Imperial War Museum Book of 1918 - Malcolm Brown (Sidgwick & Jackson 1998)
To The Last Man: Spring 1918 - Lyn MacDonald (Viking 1998)
VCs of The First World War: Arras & Messines 1917 - Gerald Gliddon (Alan Sutton 1998)
VCs of The First World War: Spring Offensive 1918 - Gerald Gliddon (Alan Sutton 1998)
For modern maps of the area the IGN 'Blue' series are the most detailed and can be found in specialist map shops or ordered direct from the IGN web site (http://www.ign.fr/). Their 'Green' series sheet No 5 Laon-Arras covers this area at a scale of 1/100,000. The Michelin 'Yellow' series 1/200,000 maps with the Commonwealth War Graves Commission over-prints showing the location of cemeteries are also useful, and sheets No 52 and No 53 cover most of this area.
ŠPaul Reed 2006