Hohenzollern Redoubt 1915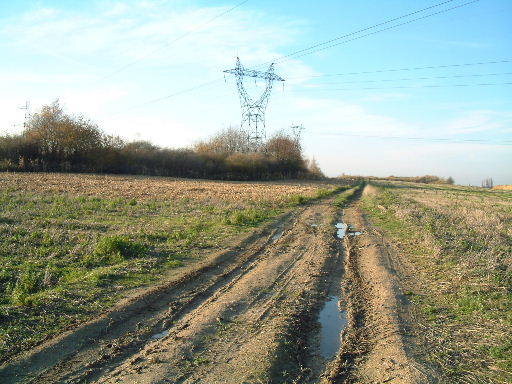 Modern View looking down the site of the line of mine crater: the remaining ones are in the trees.
This was a heavily fortified position in the German lines, and one of the keys to the Loos battlefield. Beyond was The Dump and Fosse 8. It was attacked by units of the 9th (Scottish) Division on 25th September 1915, who were all but wiped out here. The 12th (Eastern) Division was heavily involved in early October, the war poet Charles Hamilton Sorley being killed here with the 7th Suffolks. On 13th October 1915 the 46th (North Midland) Division attacked, and again casualties were very heavy. The Redoubt remained firmly in German hands, and the area achieved an infamous reputation as one of the great killing grounds of the Loos battlefield.
Today there is no trace of the redoubt, although there are some surviving mine craters among the trees: this, however, is private property and there is often hunting there. In 2004 the area here was nearly destroyed by development, but after protests it has been saved. There is an excellent article on the 46th Division attack by Andrew Thornton on Hell Fire Corner.
| | | | |
| --- | --- | --- | --- |
| | | | |
| Map of the 9th Division attack on 25th September 1915. | Photo of the Hohenzollern Craters in 1918. | Remains of the last Hohenzollern mine craters 2004. | View looking into the mine craters, 2004. |
ŠPaul Reed 2005