HOOGE CRATER MUSEUM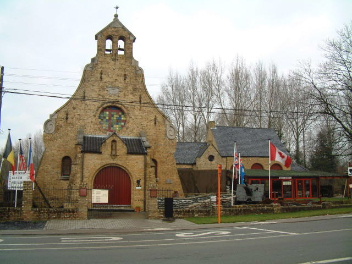 Main view of the Museum.

The Hooge Crater Museum/Café is located on the old Menin Road, opposite Hooge Crater Cemetery, and close to the Hooge Chateau grounds. Hooge was the scene of almost continuous fighting during the Great War, and was on the front line from 1915-17. During this period both sides tunneled underneath each other, blowing huge charges of explosive - mine craters littered the area of the main road where the museum now stands, but the main Hooge Crater was slight to the north of the museum, towards the Bellewaarde Ridge.
The museum/café is located in an old school, which was built with assistance from the family of an officer buried in the cemetery opposite. For many years derelict, Roger De Smul and his family purchased the building, renovated it and decided to open a museum with a local collector who had no space to display his own collection of Great War memorabilia. Inside is a huge array of uniforms, equipment, weaponry, photographs and other items; the central feature of the museum are life-size dioramas depicting trenches, dugouts and other battlefield scenes. Over recent years the museum has expanded to include an original WW1 ambulance, a 1:1 reproduction of the Red Baron's triplane, and there is also a permanent Diggers Exhibition, showing some of the work of this local archaeology group and artifacts retrieved from the site at Boesignhe. Roger and his family also run an excellent café, where drinks and light lunches can be purchased, together with books and WW1 collectables.
Hooge Crater Museum/Café is open every day (except Mondays) from 10.00-18.00. There is a small entrance fee for the museum. Groups must book in advance, especially for lunches.
For further details contact:
Museum Hooge Crater, Meenseweg 467, B-8902 Zillebeke-Ieper, Belgium
Telephone +32 (0)57 46 84 46
Fax +32 (0)57 46 87 12
Web: http://www.hoogecrater.com/
Email: hoogecrater@skynet.be