LALA BABA CEMETERY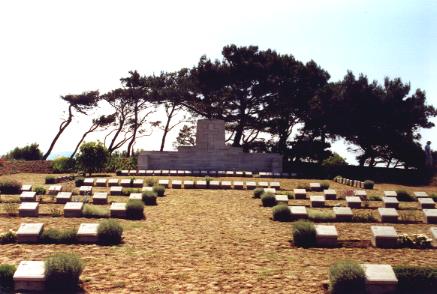 UK - 200
UNNAMED - 53
SPECIAL MEMORIALS - 16
HISTORY
Lala Baba is a hill 160 feet high, between the southern side of Suvla Bay and the Salt Lake, which was stormed by the 9th West Yorks and the 6th Yorkshire Regiment on the early morning of the 7th August 1915; and half a mile south-west of it is the lower hill known as Little Lala Baba. The Cemetery is on Little Lala Baba, facing west towards the sea. It was made after the war by the concentration of nine small cemeteries and a few isolated graves. It covers an area of 1,353 square yards, and it contains the graves of 200 soldiers from the United Kingdom. The unnamed graves are 53 in number, and special memorials are erected to 16 soldiers known, or believed, to be buried among them. A wide belt of shrubs is planted on either side of the cemetery and a belt of trees at the back.
LOCATION
Although not physically difficult to reach such as The Farm Cemetery, Lala Baba proved to be one of the harder cemeteries to find. We reached it in May 2000 by driving up to Hill 60 and taking a minor road going west towards Nibrunesi Point. This soon became a track, although passable in the car, and there were several packs of dogs about; some with metal spiked collars! Using the Holts map, we were heading for the northern shores of C Beach; this is where the cemetery is shown on their map. However, it soon became clear that it wasn't there and it took a while to find it on little Lala Baba itself; it is tucked behind a holiday chalet and some trees. We left the car about 300 yards from the cemetery and walked the rest of the way. It is therefore nearly 1km away from the location shown on the Holts map - so be aware of this! The views from the cemetery across Suvla Bay and the Salt Lake are spectacular, and you can walk down onto the beach easily from here.

GRAVES OF INTEREST
| | |
| --- | --- |
| | Lieutenant Hon. Kenneth R. Dundas Anson Bn RNVR RND |
- Killed 7th August 1915, aged 33.
- Son of 6th Viscount Melville.
- Fluent German speaker; he had been a former district commissioner in German East Africa.
- killed by an aerial bomb dropped at Suvla by a German aircraft,
| | |
| --- | --- |
| | Corporal Frank Keen MM 2nd Royal Fusiliers |
- Died 22nd November 1915, aged 38.
- One of the handful of soldiers to be awarded the Military Medal for Gallipoli (the medal did not appear until June 1916).
| | |
| --- | --- |
| | Brigadier General P.A.Kenna VC DSO 21st Lancers cmdg. 3rd Mounted Brigade |
- Died of wounds 30th August 1915, aged 53.
- First commissioned 1886; served in the Nile Expedition 1898 and Boer War; served East Africa 1902-04; ADC to the King.
- One of several senior officer casualties in the attack on Scimitar Hill.
- Kenna was awarded his VC for bravery at the Battle of Khartoum 2nd September 1898.
- Direct link to Kenna's page on Register of the VC web site:
http://www.chapter-one.com/vc/award.asp?vc=676

Grave of Brig-Gen P.A.Kenna VC DSO
| | |
| --- | --- |
| | Major Hugh Lewis Nevill DSO Royal Field Artillery |
- Killed 7th August 1915, aged 38.
- First commissioned 1897; served Boer War (wounded); mentioned in despacthes and DSO.
- Served at the Staff College from 1912.