OBOURG : 4th MIDDLESEX REGIMENT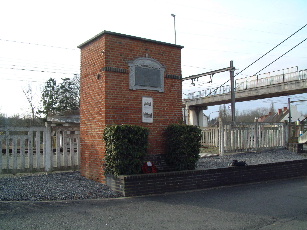 23rd AUGUST 1914
Obourg was defended by the 4th Battalion Middlesex Regiment on 23rd August 1914, part of 3rd Division. Two companies were along the Mons-Conde canal, with D Company in the railway station area and another company in reserve in some nearby woods. The Germans pressed hard against these positions, inflicting heavy losses with artillery from the higher positions on the opposite side of the canal. One account recalls:
"To the right of the Nimy Bridge the 4th Middlesex were in the meanwhile putting up a no less stubborn defence, and against equally desperate odds. Major Davey, whose company was on the left, in touch with the right of the R.Fusiliers, had fallen wounded early in the day, and the position at that point finally became so serious that Major Abell's company was rushed up from reserve to its support. During this advance Major Abell himself, Captain Knowles and 2nd Lieut Henstock were killed, and a third of the rank and file fell, but the balance succeeded in reaching the firing line trenches and – with this stiffening added – the position was successfully held for the time being." (First Seven Divisions p.24)
However, later in the day the line faltered and the enemy began to outflank the battalion, which began a withdrawal through the Boisd'Havre, the wood south of Obourg. A rear-guard was fought at the railway station, with an unknown private firing from the station roof until finally hit and killed.
Total casualties in the battalion this day were: 9 officers and 453 Other Ranks.
Obourg station was demolished in the 1980s, but a memorial to the 4th Middlesex is still found on a brick pillar located on one of the platforms.

Plaque to 4th Middlesex Regiment (click to enlarge)
©Paul Reed 2004