WALKING THE SALIENT
A WALKER'S GUIDE TO THE YPRES BATTLEFIELDS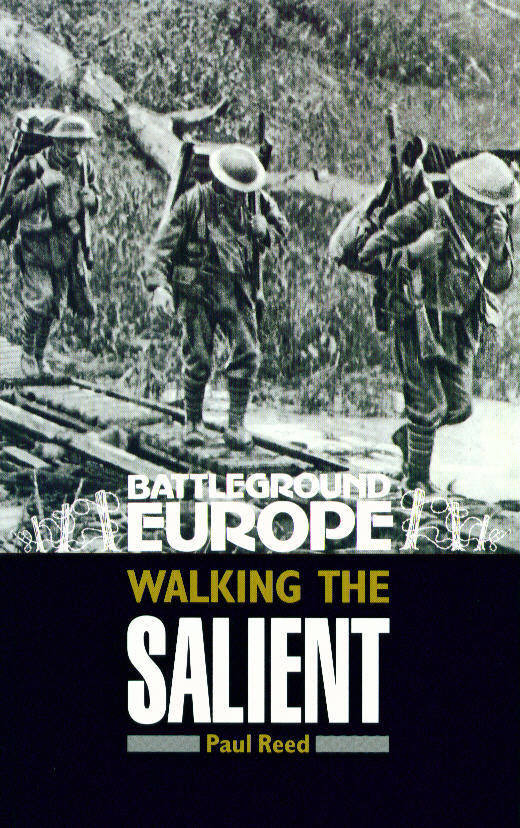 Battleground Europe series - Walking The Salient
Pen & Sword Books 1999
ISBN: 0850526175 Price: £10.95 Extent: 208pp Paperback
A companion volume to Walking The Somme for the imposing battlefields of Flanders around the town of Ypres. Twelve walks takes the pilgrim to every corner of the grim Salient: from Passchendaele to Messines, Poperinghe, Plugstreet Wood and Kemmel Hill.
The book includes details of over 50 military cemeteries around Ypres, telling their history and providing many 'cmeos' of the men buried in them. It is well illustrated with photographs, many of them published for the first time, and also contemporary trench maps. A useful companion on any visit to Flanders and the only guide to walking the Ypres battlefields.
Extracts from Amazon Reviews:
"Helped enormously during a recent visit to the Ypres/Ieper area. The book gave a real insight into the battles and it was great to have guided walks to follow. The points of interest are clearly described and very informative. I would recommend this book if you are visiting the area and want an understanding of what you are seeing." A reader from Hants United Kingdom, September 18, 2003

Extract from the Pen & Sword Web Site:
Following the great success of 'Walking the Somme', Paul Reed has turned his hand to Ypres, with a series of walks designed to take the visitor across this most heavily fought-over part of the Western Front. The 'Immortal Salient' has had its fair share of guide books, but this one takes the reader across the landscape in the way that 'Tommy' would have seen it on foot. It sets the scene for all aspects of man's ingenuity and inhumanity, courage and stupidity.