SOMME: COURCELETTE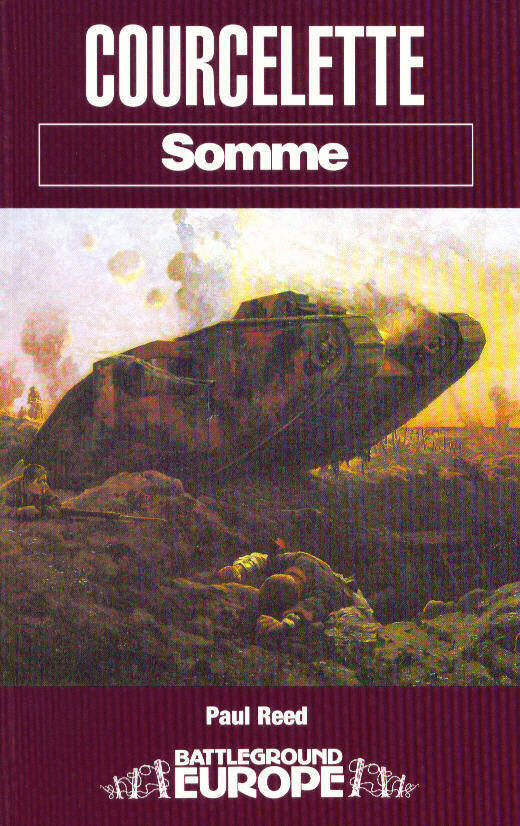 Battleground Europe series - Somme: Combles
Pen & Sword Books 1998
ISBN 0850525926 £9.95
Courcelette was Canada's main battlefield on the Somme in 1916; 8,500 Canadian soldiers died here between September and November 1916. In total more than 24,000 Canadians became casualties here. All four Canadian Divisions fought at Courcelette; along with many famous Canadian figures: among them - Canon Frederick Scott, Robert Service and Talbot Papineau.
Part of the ever-popular 'Battleground Europe' series, this in-depth guide to the Courcelette battlefield covers all the major actions from the capture of the village to the attacks on Regina Trench and Desire Trench. Many of the photographs included in the book have not appeared in print before and there is a harrowing eyewitness account of the attack on the Sugar Refinery by a veteran of the 21st Battalion Canadian Infantry.
The guide section includes suggested routes both by car and on foot, and there is comprehensive information about the cemeteries and memorials connected with the fighting at Courcelette. The Armourer Magazine highly recommended this book.
Extracts from Amazon Reviews:
" A great book, like pretty much all of those in the Battleground Europe series, really! Packed with detail, good maps, good pictures, and flowing text, and as its Paul Reed, you can be sure that its been well researched, and very accurate. I'd single this book out as being indispensable if you get the chance to go to the Somme, and just try some of the tours advised in the back- excellent stuff!" howes77 from UK, January 28, 2005

" Another excellent addition to the Battleground series, detailing the Battle of Flers - Courcelette in Sept 1916. Focuses on the efforts of the Canadian divisions who bore the brunt of this sector of the Somme battle which had developed into a war of attrition. Also covers the first major deployment of tanks in the War. Fine use of photographs and maps to take the reader step by step through the dreadful fighting that ensued. It also identifies individual acts of bravery that is quite humbling to a modern day reader cocooned from the harsh realities of war." Peter Wilding, Warwickshire, England, March 1, 2001

"This excellent Pen and Sword series is enhanced by an excellent account of the Canadian Corp engagements at Courcelette during the late autumn months of 1916. The Canadians fought in some of the worse terrain during September; October and November 1916 gaining much ground around the village of Courcelette and the awful German trench system of which Regina Trench was the longest stretch of single trench which existed on the Western Front at that time. The book gives very good accounts of what happened during those months. It is also a great human account too; many stories are told of heroism, fighting against impossible odds across heavily cratered ground in order to clear the enemy defences before the winter finally brought the battles to an end.

I cannot rate this book too highly for it is well researched with numerous photographs of the battlefield as it was in 1916, and also how it looked during the post war years. Moreover; it is also useful for the battlefield visitor with numerous tours set out in detail with recommended visits. A worthy memorial too for the many Canadian soldiers who fought and died on the Somme and whose remains were never recovered." eredfearn2 from Middlesbrough, Cleveland United Kingdom, December 2, 2004
BUY THE BOOK NOW AT AMAZON & SUPPORT THIS SITE: