SOMME: COMBLES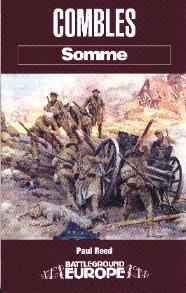 Battleground Europe series - Somme: Combles
Pen & Sword Books Ltd 2002
ISBN 0 85052 674 4 - 144 pages - £9.95
The village of Combles saw nearly a months worth of bitter conflict in September 1916, when men of the 56th (London) Division fought for the village, and the surrounding woods: Bouleaux ('Bully') and Leuze ('Lousy') woods. It was also an area selected for the first use of tanks on 15th September 1916.
The book looks at the background to the fighting at Combles; the German occupation (including the wounding of Ernst Jünger) and in the initial assaults around Falfemont Farm by 5th Division. It examines the history of the London Regiment, the formation of 56th (London) Division and then its operations for Combles leading up to the capture of the village on 26th September 1916.
There is a guide to the area by car, plus three suggested walks, and a detailed cemetery section with information on the key cemeteries connected with the fighting at Combles.
The book is compiled from the usual sources I consult: unit War Diaries, Regimental and Divisional histories, and first hand accounts from veterans. There are also a large number of previously unpublished photographs, and numerous maps - including trench maps.