WW1 MODEL TRENCHES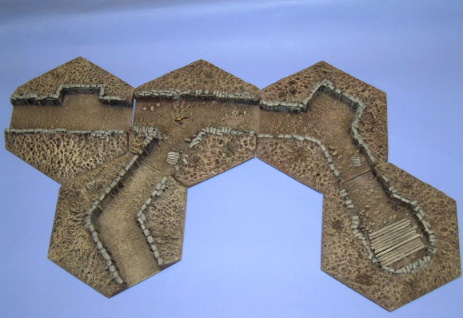 Designed & Made by Mark Biddles
A somewhat unusual product - these model trenches were sent to me by a friend of someone who had been on a battlefield tour with me. They are designed largely for the growing WW1 wargame market, where table-top battles using model figures and terrain re-fight battles of the Great War using rule-sets and dice.
The trenches sent to me are in 10mm scale; meaning they are designed for use with figures 10mm high. Larger scales are under consideration. Each section of trench is inter-changeable, so that a number of systems can be constructed. The trenches are all artificially wide so that figures mounted on bases can sit in them, but they are very realistic - with simulated wooden trench supports, sandbags, firing positions, and a trench mortar/artillery position was also included in the sample. Outside the area of the trenches the ground is pock-marked, and some sections of trench also included large shell craters. Dug-outs and command posts will be released shortly.
| | | |
| --- | --- | --- |
| | | |
| Trench section with TM or Artillery Position. | Trench section with 10mm figure to show scale. | Trench junction with 10mm figure to show scale. |
While mainly of interest to wargamers, these trenches would also be a good display piece among your Great War militaria, or a useful education tool to visually explain the layout of a WW1 trench system.
They come made of resin, and unpainted, although Mark Biddles will paint some small orders for additonal cost.
For further details contact: