QUINN'S POST CEMETERY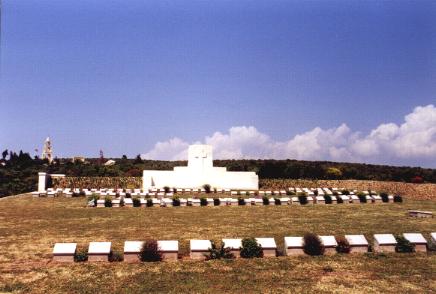 AIF - 105
NZ - 10
UNIT NOT KNOWN - 294
SPECIAL MEMORIALS - 64
HISTORY
Quinn's Post Cemetery is North of Lone Pine, on the road to Hill 60, and almost due East of Anzac Cove. The Post was established on the afternoon of the 25th April by a New Zealand machine-gun crew, in a recess covered with green arbutus scrub. It was held by a mixed force until the next day, when the 4th Australian Brigade took it over, and on the 29th Major then Captain Hugh Quinn, 15th Battalion, was sent to it with 225 officers and men. It was held by Australian troops during May against incessant attacks, the fiercest of which took place on the 10th and the 29th (when Major Quinn was killed in it); and early in June it was handed over to the New Zealand Infantry. The Australian Light Horse Brigade occupied it in July, and the 17th Australian Battalion in September. It was a place of continual hand-to-hand fighting with the Turkish post opposite, and it was named by the Turks "Bomba Sirt" (Bomb Ridge). The original cemetery was made after the Armistice by the concentration of 225 isolated graves, all unidentified, into Rows E to I; Rows A to D were added later. The 73 graves from Pope's Hill Cemetery, and six others found later, were brought into the Pope's Hill Plot, at the North-East end. Quinn's Post Cemetery now covers an area of 1,283 square yards. It is surrounded on the North-East side by a belt of trees, and on the other sides by a belt of shrubs. It contains the graves of 105 soldiers from Australia, ten from New Zealand, and 294 whose unit in our forces could not be ascertained. There are, however, tablets placed in it which record the names of 60 soldiers from Australia and three from New Zealand and one British Marine, for whom there is evidence of burial in Quinn's Post Cemetery or Pope's Hill Cemetery. The Register of Quinn's Post Cemetery records particulars of 409 British and Dominion burials. POPE'S HILL CEMETERY was at the foot of Pope's Hill, where the track turned up to Quinn's Post. It contained the graves of 70 soldiers from Australia and three from New Zealand, who fell in April-August, 1915. The Hill was named from Lt. Col. H. Pope (afterwards Col. H. Pope, C.B., V.D.), then commanding the 16th Australian Battalion, which reached it on the 25th April.
LOCATION
Quinn's Post Cemetery is north of Lone Pine, on the road to Chunuk Bair, almost due east of Anzac Cove. It is well signposted as you come into the ANZAC area.

GRAVES OF INTEREST
| | |
| --- | --- |
| | Sherwood brothers from Australia: |
- Trooper Frederick Sherwood, aged 29.
- Trooper Harold Sherwood, aged 25.
- Both 1st Australian Light Horse, killed 7th August 1915 in diversionary attack on Quinn's Post and Pope's Hill.
| | |
| --- | --- |
| | Lieutenant Francis Armstrong 15th Battalion AIF |
- Killed 10th May 1915.
- A Brisbane bank clerk, and veteran of the Boer war.
- Killed going to the aid of wounded comrades in front on Quinn's Post.