RETURN TO GALLIPOLI
MAY 2003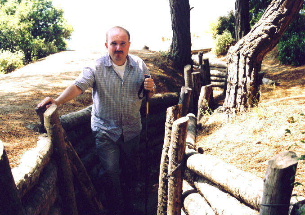 Paul Reed in the Turkish Trenches at Chunuk Bair, May 2003.
In May 2003 I returned once more to the Gallipoli battlefields to work with the BBC on a Timewatch documentary about the Gallipoli campaign (which was shown on 28th November 2003 on BBC2 at 9pm). While this is different from a normal battlefield visit, it did give me the chance to see how things had changed in the past three years. These notes are therefore offered as an update to those contemplating a visit, or who haven't been for a while.
Paul Reed
June 2003

ROUTE TO GALLIPOLI
Once again the motorway out of Istanbul was the easiest route, then taking the coast road before cutting down into the Gallipoli area. At best this still took 4+ hours; at weekends the roads are busier, so it may take longer, especially in the built up areas. However, there are far more Services en-route, some of them truly excellent; they also serve as good places to pick up water etc supplies en-route.
ACCOMMODATION
The BBC had arranged accommodation at the Hotel Kum. I had not come across this last time, and it was a real eye-opener; an excellent place to stay, with good, clean rooms. They were all en-suite, with TV which had BBC World on it. The breakfast is good and large, and the restaurant provides a set meal every night, but it is in the form of a buffet and there is a great deal of choice - also very good for vegetarians like me! There is a large bar, a BBQ area, and the hotel has its own private beach and swimming pool. A great place to stay, and one I will be using again on my own trips to Gallipoli. For further details contact:
Hotel Kum
Kabatepe
Eceabat
Canakkale
Turkey
Tel: 90 (286) 814 14 55 / 814 14 66. Fax: 90 (286) 814 26 65.
Email: otelkum@superonline.com
I also had a chance to visit the Pansiyon Helles Panorama, which is close to the fort of Sedul-Bahr on Cape Helles. We went there to film and interview with the owner, retired CWGC worker Errol Bayan. He showed us round his lovely home, which has commanding views across Cape Helles, and especially towards Morto Bay. I met several WFA members who were staying there, who said it was excellent. The B&B only has seven rooms, so space is limited and I understand it books up quickly, so early reservation is a must. Another good place to consider for your next stay at Gallipoli.
EATING OUT/LOCAL ADVICE
Last time I was in Turkey we didn't eat out, as we had heard many bad stories about the restaurants around Turkey. However, this time I had the pleasure of being guided by Bill and Serpil Sellars, who were helping with the filming project. Bill is an Australian journalist with a long standing interest and great knowledge of Gallipoli (he appeared on the Ch 5 'Battlefield Detectives' programme), and his Turkish wife Serpil is also a journalist and Television Producer, and has worked with many TV and Film crews. Both really looked after us during our stay, and thanks to them I developed a great love of the local cuisine during this stay; we eat out in both Eceabat and Canakkale, and had some great meals. In particular there was a very good fish restaurant in Canakkale, and the night we went there the ferry crossing added a feeling of adventure to it! Canakkale is now greatly expanded, and there are numerous restaurants and cafes all along the seafront where the ferry comes in.
Bill and Serpil are available to assist with any television, media or specialist visit to Gallipoli; they don't act as guides, and obviuosly charge the usual fee for their professional services. If you would like their details, contact me at : Email Paul Reed
THE BATTLEFIELDS
It was great to be back on the Gallipoli battlefields after three years. I had heard rumours that the Gallipoli National Park was being re-planted with trees, but they was certainly not the case. There was a little bit more scrub at ground level, but the battlefield was as open as it was in 2000, and the signs of trenches and positions still to be seen in profusion.
One noticeable difference was the amount of British visitors. People coming from the UK were very much in the minority, but they are now increasing in numbers; we also came across a group of WW1 enthusiasts from Flanders, so it is even catching on in Belgium!
MAPS & BOOKS
Despite the new Gallipoli battlefield map, the area still suffers from the fact that it doesn't have a decent battlefield map. I didn't even bother to take the Holts map this time, as it proved unreliable on the last visit. I was glad I had packed Taylor and Cupper again, as that made a good read on the plane, and still ranks as one of the best battlefield guides ever published. After The Battle's Gallipoli Then & Now also proved useful, and was a good source of research for the programme.
CONCLUSIONS
Another good visit, even if it was a different one. Gallipoli holds a strange attraction - but a very personal one for me having had so many relatives there in 1915. One thing is for sure; having been once is not enough, and going again only wets your appetite for more! Gallipoli is addictive, and I look forward to the next visit.

Special thanks to: John Hayes-Fisher, Bill & Serpil Sellars, Julian Clinkard, David Holmes and Ben Lawrie.

ŠPaul Reed 2003