SANCTUARY WOOD TRENCH MUSEUM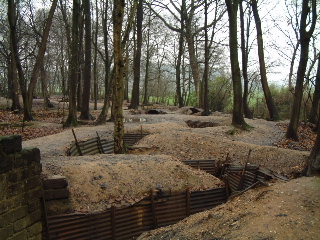 Trenches in Sanctuary Wood, December 2002.
This museum was started in 1919 by the grandfather of the present owner, who preserved part of the trench system that remained in what the British Army called Sanctuary Wood. The wood got its name in the First Battle of Ypres in 1914, when men separated from their regiments came to this wooded area - a safe area away from the main fighting, a place of 'sanctuary' - to await to rejoin their unit. By 1915, the wood, on the lower slopes of Hill 62, was part of the front line area and remained so until 1917. In June 1916, the Germans attacked and broke through the 3rd Canadian Division who held this sector, and fighting took place within the area of the wood. The wood was captured by the Germans in April 1918, and retaken finally in the Fourth Battle of Ypres. An officer of the 13th Canadians (Royal Highlanders of Canada) described the wood in mid-1916:
Sanctuary Wood was by this time a wood in name only. Such trees as stood were riven and leafless, while their fallen branches added to the maze of wire and trenches beneath. The air was heavy with the sickening odour of decay, so that the whole battered district, even by day, was a place of grisly horror and evil omen.
The museum is entered by the café (where drinks and snacks may be purchased); on display inside is a large collection of WW1 items and photographs - including some horrorific 3D images from Belgian, French and German sources. In the wood itself are the trenches; a main second-line trench, part of a communication trench and a communication tunnel. These all formed part of the Lover's Walk, Artillery Place and Warrington Avenue sector. Major R.T.Rees of 8th Loyal North Lancs called Lover's Walk a "filthy ditch" in 1915 - little has changed! While minus their sandbags, duckboards, and wooden supports, the trenches here do convey a good impression of a trench system from WW1.
The museum is open every day from 10.00-19.00. It is located just off the Menin Road; from Ypres, follow signs for Menen. Just before Hooge, turn right following signs for the Canadian Memorial on Hill 62 and Sanctuary Wood Cemetery. It is located just past the cemetery. Parking available. Entrance fee charged.
For further details contact:
Hill 62, Canadalaan 26, B-8900 Zillebeke-Ieper, Belgium
Telephone - 0032 57 46 63 73