SHELL GREEN CEMETERY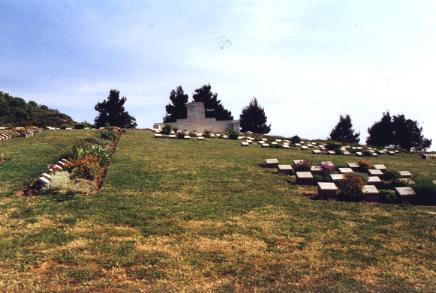 AIF - 408
UK - 1
KELIA LIMAN PLOT - 20 UK
HISTORY
Shell Green was a sloping cotton-field on the seaward side of Bolton's Ridge. It was captured, and passed, by the 8th Australian Infantry Battalion on the morning of the 25th April 1915, but it remained throughout the campaign close to the Turkish line and subject to frequent shelling from Olive Grove and Gaba Tepe, though sheltered by Bolton's Ridge. The cemetery is on the edge of the steep slope overlooking the sea. It was used from May to December 1915, largely by the Australian Light Horse and the 9th and 11th Infantry Battalions AIF. It was originally two cemeteries a short distance apart; but after the war it was made into one cemetery and enlarged by the concentration of 64 graves from the battlefields, and from four small burial grounds. The cemetery covers an area of 2,750 square yards. It contains the graves of 408 soldiers from Australia and one from the United Kingdom; eleven are unidentified. On either side of it is a thick belt of shrubs, and behind it a belt of trees.
The cemeteries concentrated here were the following:- ARTILLERY ROAD CEMETERY and ARTILLERY ROAD EAST CEMETERY, containing 21 Australian graves of April and May 1915. These were North-East from Shell Green, between the "Artillery Road," which led up from Shell Green to Brown's Dip, and the front-line trench near the Wheatfield. WRIGHT'S GULLY CEMETERY, South of Shell Green, near Chatham's Post. It contained the graves of eight men of the 5th Australian Light Horse who fell on the 28th June 1915. THE EIGHTH BATTERY CEMETERY, half-way between Shell Green and Hell Spit, containing the graves of seven men of the 8th Battery, Australian Field Artillery. In March 1927, the graves of 20 sailors and soldiers who died in 1922 and 1923 were removed from Kelia Liman, near Maidos, and reburied here between the Artillery Road Plot and Row G of Plot II..
LOCATION
Shell Green Cemetery is 300 metres up a hilly track (Artillery Road) from the coast road, which may not be driveable in wet weather. The last part must be walked in all weathers.
GRAVES OF INTEREST
| | |
| --- | --- |
| | Major J.E.Sergeant 8th Bn AIF |
- Killed 25th April 1915, aged 45.
- Inscription on his headstone reads:
"Mate O Mine"
| | |
| --- | --- |
| | Lieutenant Colonel H.J.I.Harris 5th Light Horse AIF |
- Killed 31st July 1915, aged 44.
- Harris Ridge was named after him.
- Harris was described as "... one of nature's gentlemen and a real good soldier. He was shot in the jugular through a loophole one night and only lived a few minutes after."
| | |
| --- | --- |
| | Kelia Liman Plot are 20 UK soldiers and sailors from the occupation of this area in 1922/23. The graves were moved here in March 1927. |