SKEW BRIDGE CEMETERY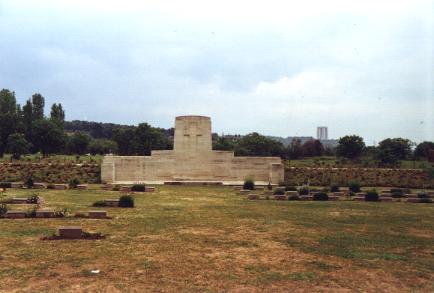 UK - 249
AIF - 9
NZ - 2
INDIA - 1
UNIDENTIFIED - 345
HISTORY
Skew Bridge Cemetery is a mile north-east of Sedd el Bahr, between the roads to Krithia and Kilid Bahr. It was named from a wooden "skew" bridge carrying the Krithia road across the Dere, about fifty yards away on the west. It is just behind the centre of the line occupied by the Allied forces, across the toe of the Peninsula, by the 27th April 1915. It was made after the Second Battle of Krithia (6th-8th May), and used throughout the occupation; but the original cemetery contained only 53 graves (Plot I, less Row E). The remainder of the graves were brought after the war from the small cemeteries known as Orchard Gully, R.N.D., Backhouse Post and Romanos Well, or (in the last three rows of Plot III) from the battlefields. The cemetery now covers an area of 2,643 square yards, and it contains the graves of 124 dead from the United Kingdom, five from Australia, two from New Zealand, one from India, and 345 whose unit in our forces could not be ascertained. The majority of the graves are probably those of sailors and Marines of the Royal Naval Division. The unnamed graves number 351, and special memorials record the names of 125 men from the United Kingdom and four from Australia, known or believed to be buried among them. The cemetery is backed by a belt of pines, and belts of ilex are planted on the north and south sides. Cypresses and rosemary are among the graves.

LOCATION
Skew Bridge Cemetery is 2 kilometres north-east of Sedd-el-Bahr, between the road to Krithia and Kilid Bahr.

GRAVES OF INTEREST
| | |
| --- | --- |
| | Lieutenant Colonel E.G. Evelegh Royal Marines attach. Nelson Bn RND |
- Killed 14th July 1915.
- Twice mentioned in despatches.
- " He was last seen standing on a trench parapet, cap in hand, cheering his men forward and then dashing on himself."
| | |
| --- | --- |
| | Colonel Frank William Luard Portsmouth Bn Royal Marine Light Infantry |
- Killed 13th July 1915, aged 50.

| | |
| --- | --- |
| | Lieutenant Colonel J.A.C. Quilter Coldtream Guards attach. Hood Btn RND |
- Killed 6th May 1915, aged 40.
- Son of Sir Cuthbert Quilter of Bawdsey Manor, Suffolk.
- Educated at Eton; first commissioned 1897; served Boer War (slightly wounded); mentioned in despatches 1901.
- Became Secretary to the Governor General of Australia before 1914.
| | |
| --- | --- |
| | Drummer Joseph Aloysius Townsend 1/4th East Lancs |
- Killed 18th May 1915, aged 15.
- The youngest British soldier to die at Gallipoli.