THIEPVAL VISITORS CENTRE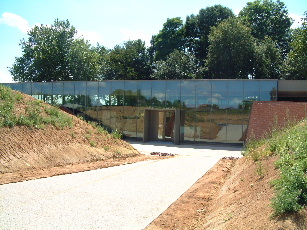 The Thiepval Visitors Centre opened in July 2004. It is a joint English-French project, and has both French and English speaking staff. The centre supplies tourist information, and has good toilet and picnic facilities. It is located out of view, but only a short distance from the Thiepval Memorial. It has its own parking area, with space for coaches.
There is a small bookshop, and an exhibition explaining the history behind the nearby Thiepval Memorial to the Missing, Thiepval village and the Battle of the Somme.
The centre is open every day from 10.00 - 17.00.
The centre's website is: