ULSTER TOWER, THIEPVAL
MEMORIAL TO 36th (ULSTER) DIVISION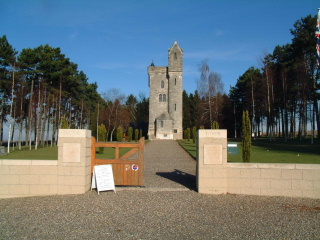 The Ulster Tower stands close to the site of the old German front line in July 1916, on ground fought over by the 9th Royal Irish Rifles on 1st July 1916. It commemorates the men of the 36th (Ulster) Division who fought here on that day, and died here and in the other battles the unit fought along the Western Front.
The Tower was dedicated on 19th November 1921, and is a copy of St Helen's Tower at Clandeboye, County Down, close to where the Ulster Division did its training in 1914-15.
Since the mid-1990s there has been a visitors centre on the site, telling the story of the Division in WW1. The centre has been run by two Teddy & Phoebe Colligan since 2002, and is now open regularly every day (10.00 - 18.00) except Mondays - they will give a real Ulster welcome! The centre has drinks and refreshments, snacks, books, postcards and good, clean, toilets. It also contains tourist information for Northern Ireland and the Somme battlefields.
Close by is the remains of a German observation post on the defences called The Pope's Nose, and two military cemeteries: Connaught Cemetery and Mill Road Cemetery, both of which contain the graves of Ulstermen who fell on 1st July 1916.
Contact details:
Ulster Memorial Tower and Visitor Centre
Route de St Pierre Divion
80300 THIEPVAL
France
Web: http://www.irishsoldier.org/