Sergeant HARRY WELLS VC
2nd Battalion Royal Sussex Regiment
Battle of Loos - 25th September 1915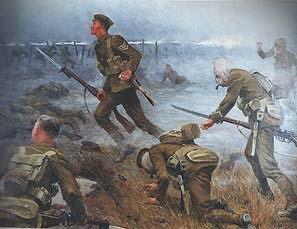 Painting of Harry Wells winning the VC at Loos 1915.
Citation from the London Gazette, November 18, 1915:
"For the most conspicuous bravery near Le Routoire on the 25th September, 1915. When his platoon officer had been killed, he took command and led his men forward to within 15 yards of the German wire. Nearly half the platoon were killed or wounded, and the remainder very much shaken, but with the utmost coolness and bravery Sergeant Wells rallied them and led them forward. Finally when very few were left, he stood up and urged them forward once more, but while doing so he himself was killed. He gave a magnificent display of courage and determination."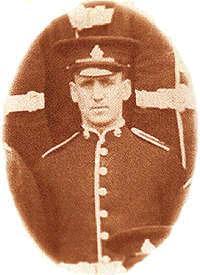 Harry Wells in dress uniform pre-1914. (From the Rousillon Gazette)
Harry Wells was born on 19th September 1888, at Herne Bay in Kent. A farm hand, he joined the Royal Sussex Regiment in the years following the Boer War, and served with the 2nd Battalion abroad and in England. He left the regiment in around 1911, but signed on as a reservist. Wells became a Kent policemen in the years leading up to the Great War, and lived in Ashford, Kent.
In August 1914 he was recalled to the colours, and again joined the 2nd Battalion. He fought with them on the Aisne in September 1914, and at Ypres in October - November. Rising to the rank of Sergeant, due to heavy losses at Aubers Ridge on 9th May 1915, he was awarded his VC for leading his men forward into action on the opening day of the Battle of Loos on 25th September 1915.
This battle was the first major British offensive of the Great War, and the first time the British had used gas. 2nd Royal Sussex were part of the 2nd Brigade, 1st Division, and their Brigade HQ was in the nearby Le Rutoire Farm. On 25th September 1915 they were attacking the German lines north of Loos. Zero hour was 06.34am, and casualties were heavy: particularly amongst the officers. This is why Harry Wells was forced to take over, and lead the attack in.
Harry Wells was buried with many other 2nd Bn men close to Le Rutoire Farm, and in the early 1920s his grave was moved to Dud Corner Cemetery, Loos (Plot V, Row E, Grave 2). He is also commemorated on the war memorial in Herne Bay, where a street is now named after him.
ŠPAUL REED 2002