Lieutenant ERIC ARCHIBALD McNAIR VC
9th Battalion Royal Sussex Regiment
Hooge - 14th February 1916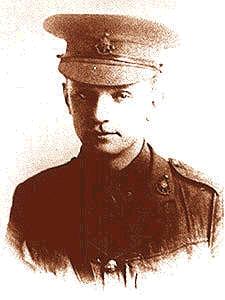 Lieut E.A.McNair 1916 (©WSRO)
Citation from the London Gazette, No 29527 March 30, 1916:
"Eric Archibald McNair, Lieutenant, Royal Sussex Regiment. When the enemy exploded a mine, Lieutenant McNair and many men of two platoons were hoisted into the air, and many men were buried. But, though much shaken, he at once organised a party with a machine gun to man the near edge of the crater, and opened rapid fire on a large party of the enemy who were advancing. The enemy were driven back leaving many dead. Lieutenant McNair then ran back for reinforcements, and sent to another unit for bombs, ammunition and tools to replace those buried. The communication trench being blocked, he went across the open under heavy fire, and led up the reinforcements the same way. His prompt and plucky action undoubtedly saved the situation."

Born on 16th June 1894, at Calcutta in India, Eric Archibald McNair was the son of a solicitor then working and living in India. He was educated at Charterhouse school, and Magdelen College, Oxford where he met the then Prince of Wales.
Commissioned into the Royal Sussex Regiment in October 1914, he joined the 9th Battalion at Brighton. Their training took them to barracks near Dover, and crossed to France with the Battalion in August 1915, to take part in the ill-fated Battle of Loos. The 9th fought near a position called The Dump, and suffered heavy casualties. The Battalion they moved to the Ypres Salient, where they took over trenches on the Bellewaarde Ridge near the hamlet of Hooge. It was here on 14th February 1916 that the action which resulted in the award of the VC took place.
McNair was appointed to the rank of Captain, continued to serve with the 9th Bn after the award of the VC until badly wounded at Guillemont, on the Somme, on 18th August 1916. He never returned to the battalion, his wounds and sickness resulting in a Staff job. This staff work took him to Italy in 1917, where he was attached to General Headquarters. McNair again contracted sickness, dying at Genoa Hospital on 12th August 1918, aged twenty four. He is buried in Staglieno Cemetery, Genoa, Italy (Plot I, Row B, Grave 32).
His VC is held at the Royal Sussex Regiment museum at Eastbourne.
©PAUL REED 2002