Company Sergeant Major NELSON VICTOR CARTER VC
12th Bn Royal Sussex Regiment (2nd South Downs)
Richebourg - 30th June 1916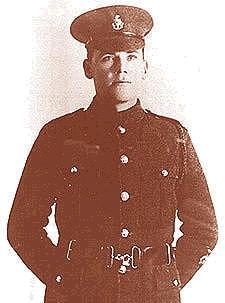 CSM Nelson Victor Carter 1915 (©Carter family)
Citation from the London Gazette No 29740, September 9, 1916:
"Nelson Victor Carter, Company Sergeant Major 4th Company, 12th Battalion, Royal Sussex Regiment. Date of act of bravery; 30th June, 1916, for most conspicuous bravery. During an attack he was in command of the fourth wave of the assault. Under intense shell and machine-gun fire he penetrated, with a few men, into the enemy's second line and inflicted heavy casualties with bombs. When forced to retire to the enemy's first line, he captured a machine-gun and shot the gunner with his revolver. Finally, after carrying several wounded men into safety, he was himself mortally wounded, and died in a few minutes. His conduct throughout the day was magnificent."

Nelson Victor Carter was born at Hailsham in April 1887. He joined the Royal Field Artillery in the years before the Great War, and was a typical old soldier covered in tattoos: he had images of Buffalo Bill on both his fore-arms! Carter served for some years until a hernia resulted in his discharge. He had hoped to take up Police employment in Hailsham, but again his injury prevented this, so he re-enlisted under the name of Nelson Smith until the military authorities discovered what he had done, and discharged him again. He then sought employment in the Eastbourne area, where he became a Cinema Commissionaire at the Old Town Cinema in Eastbourne, one of the first in the area. He was a formidable character - being over six foot tall!
In August 1914 he joined the 11th Battalion Royal Sussex Regiment (1st South Downs), his regimental number being SD/4. Due to previous military experience he was made an immediate Corporal, and then Sergeant, and when the 12th Battalion was formed in October 1914 he was transferred and made Company Sergeant Major of A Company. He took them through training at Cooden, Maidstone and then Witley, before they moved to France in March 1916.
The action at Richebourg on 30th June 1916 was part of a series of diversionary raids for the Battle of the Somme. 12th Bn were heavily involved around a position known as The Boar's Head. It was here Carter captured a German machine-gun. Later in the day the survivors were evacuating the wounded: Carter was taking the lion's share of this work, being a big man. As they pulled in the last casualty he was shot and killed by a German sniper.
Nelson Victor Carter was originally buried on the battlefield close to the Boar's Head, but in the early 1920s his grave was moved to the Royal Irish Rifles Graveyard at Laventie (Plot VI, Row C, Grave 17).
His only child, a daughter, still lives in Sussex and the VC remains with the family. She used to wear the VC at the Aubers Ridge parade in Eastbourne each year, and visited her father's grave for the first time on the 70th anniversary of his death in 1986.
He was the only Royal Sussex Regiment VC winner of the Great War who actually originated from Sussex, and is commemorated on several memorials in both Eastbourne and Hailsham.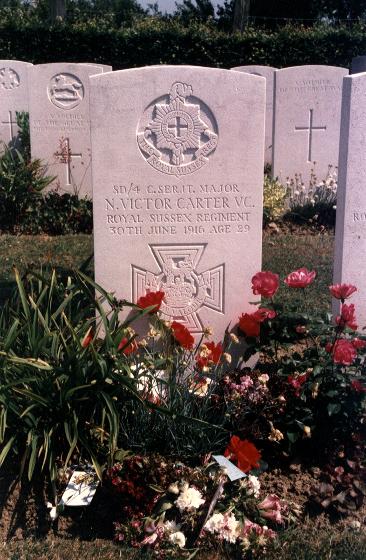 Nelson Victor Carter's grave at Laventie. (©Paul Reed)
©PAUL REED 2002